Composer: Sri Tallapaka Annamacharya (Annamayya అన్నమయ్య) , May 9, 1408 – February 23, 1503 was born to Narayana Suri and Lakkamamba in Tallapaka, a village in current day Kadapa district of Andhra Pradesh. More….
Keerthana No. 443
Copper Sheet No. 376
Pallavi: Itade yatadu (ఇతడే యతడు)
Ragam: Malavi Gowla
Language: Telugu (తెలుగు)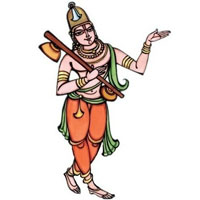 Recitals
Album: Private | Voice: Unknown

Awaiting Contributions.
This Kriti was originally composed in Telugu. Other languages are for your convenience.
Pallavi
|| ఇతడే యతడు కాబో లేలిక బంటును నైరి |
మితిలేని రాఘవుడు మేటి హనుమంతుడు ||
Charanams
|| జలధి బంధించిదాటె చలపట్టి రాఘవుడు |
అలరి వూరకే దాటె హనుమంతుడు |
అలుకతో రావణుని యదటణచె నతడు |
తలచి మైరావణుని దండించె నితడు ||
|| కొండ వెల్లగించె తొల్లి గోవర్ధనుడతడు |
కొండతో సంజీవి యెత్తె గోరి యితడు |
గుండు గరచె నహల్య కొరకు సీతాపతి |
గుండు గరగగ పాడె కోరి యితడు ||
|| అంజనాచలము మీద నతడు శ్రీవేంకటేశు- |
డంజనీ తనయుడాయ ననిలజుడు |
కంజాప్తకులరామఘనుడు తానును దయా- |
పుంజమాయ మంగాంబుధి హనుమంతుడు ||
.
Pallavi
|| itaDE yataDu kAbO lElika baMTunu nairi |
mitilEni rAGavuDu mETi hanumaMtuDu ||
Charanams
|| jaladhi baMdhiMcidATe calapaTTi rAGavuDu |
alari vUrakE dATe hanumaMtuDu |
alukatO rAvaNuni yadaTaNace nataDu |
talaci mairAvaNuni daMDiMce nitaDu ||
|| koMDa vellagiMce tolli gOvardhanuDataDu |
koMDatO saMjIvi yette gOri yitaDu |
guMDu garace nahalya koraku sItApati |
guMDu garagaga pADe kOri yitaDu ||
|| aMjanAcalamu mIda nataDu SrIvEMkaTESu- |
DaMjanI tanayuDAya nanilajuDu |
kaMjAptakularAmaGanuDu tAnunu dayA- |
puMjamAya maMgAMbudhi hanumaMtuDu ||
.

We will update this page , once we find comprehensive meaning. Feel free to contribute if you know.
.