Composer: Sri Tallapaka Annamacharya (Annamayya అన్నమయ్య) , May 9, 1408 – February 23, 1503 was born to Narayana Suri and Lakkamamba in Tallapaka, a village in current day Kadapa district of Andhra Pradesh. More….
Keerthana No.271
Copper Sheet No.111
Pallavi:Itadu BalupudauTa (ఈతడు బలుపుడౌట)
Ragam:Padi
Language: Telugu (తెలుగు)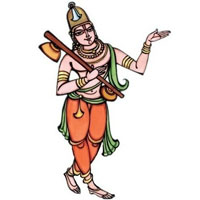 Recitals
Awaiting Contributions.
…
Awaiting Contributions.
[audio: audio-instrumental-file-name.mp3].
This Kriti was originally composed in Telugu. Other languages are for your convenience.
Pallavi
|| ఈతడు బలుపుడౌట కివియే సాక్షి | యీతడు బ్రహ్మమౌట కీతడే సాక్షి ||
Charanams
|| అమరుల మొర్కాలించి అసురబాధలు మాంచె | అమరుల కెక్కుడౌట కదియే సాక్షి |
అమౄతము పంచిపెట్టి యాదిలక్ష్మి గైకొని | అమౄతమథనమే అన్నిటికి సాక్షి ||
|| యిందరుండేబ్రహ్మాండాలు యిదె కుక్షి నించుకొనె | యిందరి కెక్కుడగుట కిదియే సాక్షి |
కందువ వరములిచ్చు కడ నెన్నడు జెడవు | కందువ పురాణాలలో కథలే సాక్షి ||
|| ఆదిబ్రహ్మ బుట్టించె మర్క్ర్కాకుమీద దుద దేలె | ఆదినంత్య మీతడౌట కదివో సాక్షి |
పొందుగా శ్రీవేంకటాద్రిపై మహిమ వెదచల్లె | పాదుకొన్న యీతనిశ్రీపాదములే సాక్షి ||
.
Pallavi
|| ItaDu balupuDauTa kiviyE sAkShi | yItaDu brahmamauTa kItaDE sAkShi ||
Charanams
|| amarula morxAliMci asurabAdhalu mAnce | amarula kekkuDauTa kadiyE sAkShi |
amRutamu paMcipeTTi yAdilakShmi gaikoni | amRutamathanamE anniTiki sAkShi ||
|| yiMdaruMDEbrahmAMDAlu yide kukShi niMcukone | yiMdari kekkuDaguTa kidiyE sAkShi |
kaMduva varamuliccu kaDa nennaDu jeDavu | kaMduva purANAlalO kathalE sAkShi ||
|| Adibrahma buTTiMce marxrxAkumIda duda dEle | AdinaMtya mItaDauTa kadivO sAkShi |
poMdugA SrIvEMkaTAdripai mahima vedacalle | pAdukonna yItaniSrIpAdamulE sAkShi ||
.

We will update this page , once we find comprehensive meaning. Feel free to contribute if you know.
.