Composer: Sri Tallapaka Annamacharya (Annamayya అన్నమయ్య) , May 9, 1408 – February 23, 1503 was born to Narayana Suri and Lakkamamba in Tallapaka, a village in current day Kadapa district of Andhra Pradesh. More….
Keerthana No.417
Copper Sheet No.183
Pallavi:Itani Maracivumti (ఈతని మరచివుంటి)
Ragam:Lalitha
Language: Telugu (తెలుగు)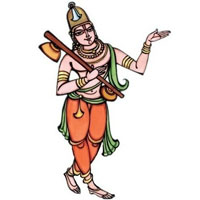 Recitals
Awaiting Contributions.
…
Awaiting Contributions.
[audio: audio-instrumental-file-name.mp3].
This Kriti was originally composed in Telugu. Other languages are for your convenience.
Pallavi
|| ఈతని మరచివుంటి మిన్నాళ్ళును | యీతల నే డెచ్చరించె నీతడే పో విష్ణుడు ||
Charanams
|| తల్లియై పోషించు తండ్రియై రక్షించు | వుల్లపుబంధుడై వొడ లరయు |
మెల్లనె దాతై ఇచ్చు మెలుతయై యాదరించు | యెల్లవిధబంధుడు యీతడే పో విష్ణుడు ||
|| యేలికయై మన్నించు విష్ణుడై బుద్ధిచెప్పు | చాలుమానిసియై యంచల దిరుగు |
బాలుడై ముద్దుచూపు ప్రాణమై లోన నుండు | యీలాగులబంధు డీతడే పో విష్ణుడు ||
|| దేవుడై పూజగొను ద్రిష్టిగోచరమై | శ్రీవేంకటాద్రిమీద సిరు లొసగు |
తావై యెడమిచ్చు తలపై ఫలమిచ్చు | యీవలనావల బంధుడీతడే పో విష్ణుడు ||
.
Pallavi
|| Itani maracivuMTi minnALLunu | yItala nE DeccariMce nItaDE pO viShNuDu ||
Charanams
|| talliyai pOShiMcu taMDriyai rakShiMcu | vullapubaMdhuDai voDa larayu |
mellane dAtai iccu melutayai yAdariMcu | yellavidhabaMdhuDu yItaDE pO viShNuDu ||
|| yElikayai manniMcu viShNuDai buddhiceppu | cAlumAnisiyai yaMcala dirugu |
bAluDai mudducUpu prANamai lOna nuMDu | yIlAgulabaMdhu DItaDE pO viShNuDu ||
|| dEvuDai pUjagonu driShTigOcaramai | SrIvEMkaTAdrimIda siru losagu |
tAvai yeDamiccu talapai Palamiccu | yIvalanAvala baMdhuDItaDE pO viShNuDu ||
.

We will update this page , once we find comprehensive meaning. Feel free to contribute if you know.
.