Composer: Sri Tallapaka Annamacharya (Annamayya అన్నమయ్య) , May 9, 1408 – February 23, 1503 was born to Narayana Suri and Lakkamamba in Tallapaka, a village in current day Kadapa district of Andhra Pradesh. More….
Keerthana No. 519
Copper Sheet No. 389
Pallavi: Ithade parabrahma (ఇతడే పరబ్రహ్మ)
Ragam: Bouli ramakriya
Language: Telugu (తెలుగు)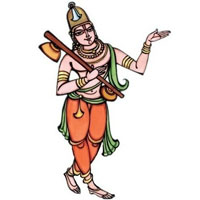 Recitals
Awaiting Contributions.
…
Awaiting Contributions.
[audio: audio-instrumental-file-name.mp3].
This Kriti was originally composed in Telugu. Other languages are for your convenience.
Pallavi
|| ఇతడే పరబ్రహ్మ మిదియె రామకథ |
శతకోటి విస్తరము సర్వపుణ్య ఫలము ||
Charanams
|| ధరలో రాముడు పుట్టె ధరణిజ బెండ్లాడె |
అరణ్య వాసులకెల్ల నభయమిచ్చె |
సొరిది ముక్కుజెవులు చుప్పనాతికిని గోసె |
ఖరదూషణులను ఖండించి వేసె ||
|| కినిసి వాలి జంపి కిష్కింద సుగ్రీవుకిచ్చె |
వనధి బంధించి దాటె వానరులతో |
కవలి రావణ కుంభకర్ణాదులను జంపి |
వనిత జేకొని మళ్ళివచ్చె నయోధ్యకును ||
|| సౌమిత్రియు భరతుడు శత్రుఘ్నుడు గొలువగ |
భూమి యేలె కుశలవ పుత్రుల గాంచె |
శ్రీమంతుడై నిలిచె శ్రీవేంకటాద్రి మీద |
కామించి విభీషణు లంకకు బట్టముగట్టె ||
.
Pallavi
|| itaDE parabrahma midiye rAmakatha |
SatakOTi vistaramu sarvapuNya Palamu ||
Charanams
|| dharalO rAmuDu puTTe dharaNija beMDlADe |
araNya vAsulakella naBayamicce |
soridi mukkujevulu cuppanAtikini gOse |
KaradUShaNulanu KaMDiMci vEse ||
|| kinisi vAli jaMpi kiShkiMda sugrIvukicce |
vanadhi baMdhiMci dATe vAnarulatO |
kavali rAvaNa kuMBakarNAdulanu jaMpi |
vanita jEkoni maLLivacce nayOdhyakunu ||
|| saumitriyu BaratuDu SatruGnuDu goluvaga |
BUmi yEle kuSalava putrula gAMce |
SrImaMtuDai nilice SrIvEMkaTAdri mIda |
kAmiMci viBIShaNu laMkaku baTTamugaTTe ||
.

We will update this page , once we find comprehensive meaning. Feel free to contribute if you know.
.