Ustad Ghulam Ali (Urdu: غلام علی, Hindi: ग़ुलाम अली (born 1940) is a Pakistani ghazal singer of the Patiala gharana. He is not to be confused with the Indian singer Bade Ghulam Ali Khan (of whom he was a disciple) or Chhote Ghulam Ali, who is another Pakistani singer in the Qual Bachon Gharana More..
Category: Ghazals


Writer / Author: Ustad Ghulam Ali (غلام علی)


Language: Urdu (اردو)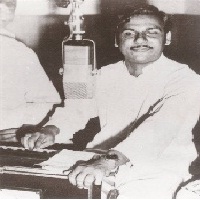 Recitals
Album:Private | Voice: U.Ghulam Ali
Album:Private | Voice: Rajab Ali

Awaiting Contributions.
This Ghazal was originally composed in Urdu. Other languages are for your convenience.
جب تصوّر میرا چپکے سے تجھے چھ اے
اپنی ہر سانس سے مجھکو تیری کشبو اے
مشاگلہ اب ہے میرا چاند کو تکتے رہنا
رات بھر چین نہ تجھ بن کسی پہلو اے
گھنٹیاں بجنے لگیں ہجر کے سنّاٹے سے
گنگناتا ہوا ایسے میں اگر تو اے
جب کبھی گردش ا دوران نے ستایا مجھکو
میری جانب تیرے پھیلے ہے بازو اے
.
Awaiting Contribution..
.
jab tasawwur mera chupke se tujhe chhu aaye
apni har saans se mujhko teri kushbu aaye
mashagala ab hai mera chaand ko takte rahana
raat bhar chain na tujh bin kisi pahalu aaye
ghantiyaan bajne lageen hijr ke sannaate se
gunagunaata hua aaise mein agar tu aaye
jab kabhi gardish-e-dauraan ne sataaya mujhko
meri jaanib tere phaile huye baazu aaye
.