Ustad Ghulam Ali (Urdu: غلام علی, Hindi: ग़ुलाम अली (born 1940) is a Pakistani ghazal singer of the Patiala gharana. He is not to be confused with the Indian singer Bade Ghulam Ali Khan (of whom he was a disciple) or Chhote Ghulam Ali, who is another Pakistani singer in the Qual Bachon Gharana More..
Category: Ghazals


Writer / Author: Ustad Ghulam Ali (غلام علی)


Language: Urdu (اردو)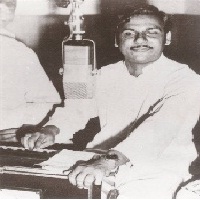 Recitals
Jahaan Talak Bhi | جہاں تلک بھی
Album:Private | Voice: U.Ghulam Ali

Awaiting Contributions.
This Ghazal was originally composed in Urdu. Other languages are for your convenience.
جہاں تلک بھی یہ سہارا دکھائی دیتا ہے
میری ہی طرح سے اکیلا دکھائی دیتا ہے
نہ اتنی تیز چلے سرافری ہوا سے کہو
شجر پی ایک ہی پتا دکھائی دیتا ہے
یہ ایک ابر کا تکدا کہاں کہاں برسے
تمام داشت ہی پیاسا دکھائی دیتا ہے
وو آلودہ کا منظر وو چھلکتی پلکیں
پاس ا گبر بھی کیا کیا دکھائی دیتا ہے
.
जहां तलक भी ये सहारा दिखाई देता है
मेरी ही तरह से अकेला दिखाई देता है
न इतनी तेज़ चले सरफिरी हवा से कहो
शजर पे एक ही पत्ता दिखाई देता है
ये एक अब्र का टुकड़ा कहाँ कहाँ बरसे
तमाम दश्त ही प्यासा दिखाई देता है
वो अलविदा का मंज़र वो छलकती पलकें
पास इ गुबार भी क्या क्या दिखाई देता है
.
jahaan talak bhi ye sahara dikhaai deta hai
meri hi tarah se akela dikhaai deta hai
na itani tez chale saraphiri hawa se kaho
shajar pe ek hi patta dikhaai deta hai
ye ek abr ka tukada kahaan kahaan barase
tamaam dasht hi pyaasa dikhaai deta hai
wo alawida ka manzar wo chhalakati palaken
pas-e-gubaar bhi kya kya dikhaai deta hai
.