Composer: Muttukumaraswamy (முத்துகுமாரச்வாமி) popularly known as Muthuswamy Dikshithar (முத்துஸ்வாமி தீக்ஷிதர் – ముత్తుస్వామీ డిక్షితర్), (March 24, 1775 – October 21, 1835) was born in Tiruvarur (of Thanjavur district of Tamil Nadu) to a Tamil Iyer Brahmin couple Ramaswami Dikshitar and Subbamma, as the eldest son. He also had two younger brothers Baluswami, Chinnaswami and a sister Balambal.Chidambaranatha Yogi was his guru. More…
Raagam: Bhairavam
Taalam: Adi
Diety: Kasi – Visweswara / Kala Bhairava Kritis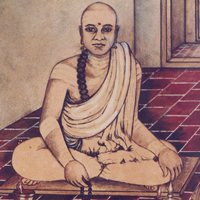 .
Recitals
Album: Unknown | Voice: Trichur Ramachandran

Awaiting Contributions.

We believe this kriti was originally composed in sanskrit. Other languages are for your convenience.
పల్లవి
కాల భైరవం భజేऽహం అనిశం
కాశీ పుర వాసం భూతేశమ్
అనుపల్లవి
శూల చక్ర పాశ దండ హస్తం
శోక మోహ వారణ ప్రశస్తమ్
చరణము
నారదాది నుత శ్యామ గాత్రం
నాగ యజ్ఞ సూత్ర విచిత్రం
క్రూర-తర పాప దండన చతురం
గురు గుహ ప్రియ-కరం దిగంబరమ్
(మధ్యమ కాల సాహిత్యమ్)
వారిజాసనాస్య కృంతనం
వాంఛితార్థ ఫల దాన చింతనం
ధీర-తరం విధి కపాల ధరణం
దేవ రాజ సేవితాబ్జ చరణమ్
variations
భూతేశమ్ – భూతేశ
నాగ యజ్ఞ సూత్ర – నాగ యజ్ఞ సూత్రం
.
பல்லவி
கால பை4ரவம் ப4ஜேऽஹம் அனிஸ1ம்
காஸீ1 புர வாஸம் பூ4தேஸ1ம்
அனுபல்லவி
ஸூ1ல சக்ர பாஸ1 த3ண்ட3 ஹஸ்தம்
ஸோ1க மோஹ வாரண ப்ரஸ1ஸ்தம்
சரணம்
நாரதா3தி3 நுத ஸ்1யாம கா3த்ரம்
நாக3 யக்3ஞ ஸூத்ர விசித்ரம்
க்ரூர-தர பாப த3ண்ட3ன சதுரம்
கு3ரு கு3ஹ ப்ரிய-கரம் தி3க3ம்ப3ரம்
(மத்4யம கால ஸாஹித்யம்)
வாரிஜாஸனாஸ்ய க்ரு2ந்தனம்
வாஞ்சி2தார்த2 ப2ல தா3ன சிந்தனம்
தீ4ர-தரம் விதி4 கபால த4ரணம்
தே3வ ராஜ ஸேவிதாப்3ஜ சரணம்
variations
பூ4தேஸ1ம் – பூ4தேஸ1
நாக3 யக்3ஞ ஸூத்ர – நாக3 யக்3ஞ ஸூத்ரம்
.
ಪಲ್ಲವಿ
ಕಾಲ ಭೈರವಂ ಭಜೇऽಹಂ ಅನಿಶಂ
ಕಾಶೀ ಪುರ ವಾಸಂ ಭೂತೇಶಮ್
ಅನುಪಲ್ಲವಿ
ಶೂಲ ಚಕ್ರ ಪಾಶ ದಂಡ ಹಸ್ತಂ
ಶೋಕ ಮೋಹ ವಾರಣ ಪ್ರಶಸ್ತಮ್
ಚರಣಮ್
ನಾರದಾದಿ ನುತ ಶ್ಯಾಮ ಗಾತ್ರಂ
ನಾಗ ಯಜ್ಞ ಸೂತ್ರ ವಿಚಿತ್ರಂ
ಕ್ರೂರ-ತರ ಪಾಪ ದಂಡನ ಚತುರಂ
ಗುರು ಗುಹ ಪ್ರಿಯ-ಕರಂ ದಿಗಂಬರಮ್
(ಮಧ್ಯಮ ಕಾಲ ಸಾಹಿತ್ಯಮ್)
ವಾರಿಜಾಸನಾಸ್ಯ ಕೃಂತನಂ
ವಾಂಛಿತಾರ್ಥ ಫಲ ದಾನ ಚಿಂತನಂ
ಧೀರ-ತರಂ ವಿಧಿ ಕಪಾಲ ಧರಣಂ
ದೇವ ರಾಜ ಸೇವಿತಾಬ್ಜ ಚರಣಮ್
variations
ಭೂತೇಶಮ್ – ಭೂತೇಶ
ನಾಗ ಯಜ್ಞ ಸೂತ್ರ – ನಾಗ ಯಜ್ಞ ಸೂತ್ರಂ
.
पल्लवि
काल भैरवं भजेऽहं अनिशं
काशी पुर वासं भूतेशम्
अनुपल्लवि
शूल चक्र पाश दण्ड हस्तं
शोक मोह वारण प्रशस्तम्
चरणम्
नारदादि नुत श्याम गात्रं
नाग यज्ञ सूत्र विचित्रं
क्रूर-तर पाप दण्डन चतुरं
गुरु गुह प्रिय-करं दिगम्बरम्
(मध्यम काल साहित्यम्)
वारिजासनास्य कृन्तनं
वाञ्छितार्थ फल दान चिन्तनं
धीर-तरं विधि कपाल धरणं
देव राज सेविताब्ज चरणम्
variations
भूतेशम् – भूतेश
नाग यज्ञ सूत्र – नाग यज्ञ सूत्रं
.
pallavi
kAla bhairavaM bhajE(a)haM aniSaM
kASI pura vAsaM bhUtESam
anupallavi
SUla cakra pASa daNDa hastaM
SOka mOha vAraNa praSastam
caraNam
nAradAdi nuta SyAma gAtraM
nAga yajna sUtra vicitraM
krUra-tara pApa daNDana caturaM
guru guha priya-karaM digambaram
(madhyama kAla sAhityam)
vArijAsanAsya kRntanaM
vAnchitArtha phala dAna cintanaM
dhIra-taraM vidhi kapAla dharaNaM
dEva rAja sEvitAbja caraNam
variations
bhUtESam – bhUtESa
nAga yajna sUtra – nAga yajna sUtraM
.
പല്ലവി
കാല ഭൈരവം ഭജേऽഹം അനിശം
കാശീ പുര വാസം ഭൂതേശമ്
അനുപല്ലവി
ശൂല ചക്ര പാശ ദണ്ഡ ഹസ്തം
ശോക മോഹ വാരണ പ്രശസ്തമ്
ചരണമ്
നാരദാദി നുത ശ്യാമ ഗാത്രം
നാഗ യജ്ഞ സൂത്ര വിചിത്രം
ക്രൂര-തര പാപ ദണ്ഡന ചതുരം
ഗുരു ഗുഹ പ്രിയ-കരം ദിഗമ്ബരമ്
(മധ്യമ കാല സാഹിത്യമ്)
വാരിജാസനാസ്യ കൃന്തനം
വാഞ്ഛിതാര്ഥ ഫല ദാന ചിന്തനം
ധീര-തരം വിധി കപാല ധരണം
ദേവ രാജ സേവിതാബ്ജ ചരണമ്
variations
ഭൂതേശമ് – ഭൂതേശ
നാഗ യജ്ഞ സൂത്ര – നാഗ യജ്ഞ സൂത്രം
.
Pallavi
I always worship kalabhairava; the one who dwells in kashi; the lord of the bhoota ganas.
Anupallavi
The one who has the trident, discus, noose and stick in his hands; the one who has the fame of removing the evil of desire
Charanam
The dark- hued one worshipped by Narada & others; the one who wears the snake as the sacred thread and having a strange countenance; the one who is expert in warding off cruel sins; The one dear to guruguha; the one who is naked; the one who pinched away the head of Brahma the one seated on a lotus; the one who always thinks of granting the desires of devotees; the brave; The one who wears the skull of Brahma; the lotus feet worshipped by Brahma
.