Composer: Muttukumaraswamy (முத்துகுமாரச்வாமி) popularly known as Muthuswamy Dikshithar (முத்துஸ்வாமி தீக்ஷிதர் – ముత్తుస్వామీ డిక్షితర్), (March 24, 1775 – October 21, 1835) was born in Tiruvarur (of Thanjavur district of Tamil Nadu) to a Tamil Iyer Brahmin couple Ramaswami Dikshitar and Subbamma, as the eldest son. He also had two younger brothers Baluswami, Chinnaswami and a sister Balambal.Chidambaranatha Yogi was his guru. More…

Raagam: Kalavati
Taalam: Adi
Diety: Sri Lakshmi Krithis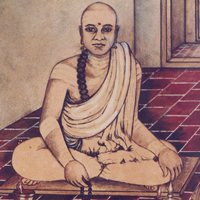 .
Recitals
Album: Unknown | Voice: Sundaram Rajam
Album: Unknown | Voice: Vijayalakshmi

Awaiting Contributions.

We believe this kriti was originally composed in sanskrit. Other languages are for your convenience.
పల్లవి
కలావతీ కమలాసన యువతీ
కల్యాణం కలయతు సరస్వతీ
అనుపల్లవి
బలాబలా మంత్రార్ణ రూపిణీ
భారతీ మాతృకా శరీరిణీ
(మధ్యమ కాల సాహిత్యమ్)
మలాలి విదారిణీ వాగ్వాణీ
మధు-కర వేణీ వీణా పాణీ
చరణము
శరద్జ్యోత్స్నా శుభ్రాకారా
శశి వదనా కాశ్మీర విహారా
వరా శారదా పరాऽఙ్కుశ ధరా
వరదాభయ పాశ పుస్తక కరా
(మధ్యమ కాల సాహిత్యమ్)
సురార్చిత పదాంబుజా శోభనా
శ్వేత పంకజాసనా సు-రదనా
పురారి గురు గుహ హృదయ రంజనీ
మురారి స్నుషా నిరంజనీ
variations
వరా శారదా – పరా శారదా
.
பல்லவி
கலாவதீ கமலாஸன யுவதீ
கல்யாணம் கலயது ஸரஸ்வதீ
அனுபல்லவி
ப3லாப3லா மந்த்ரார்ண ரூபிணீ
பா4ரதீ மாத்ரு2கா ஸ1ரீரிணீ
(மத்4யம கால ஸாஹித்யம்)
மலாலி விதா3ரிணீ வாக்3வாணீ
மது4-கர வேணீ வீணா பாணீ
சரணம்
ஸ1ரத்3ஜ்யோத்ஸ்னா ஸு1ப்4ராகாரா
ஸ1ஸி1 வத3னா காஸ்1மீர விஹாரா
வரா ஸா1ரதா3 பராऽங்குஸ1 த4ரா
வரதா3ப4ய பாஸ1 புஸ்தக கரா
(மத்4யம கால ஸாஹித்யம்)
ஸுரார்சித பதா3ம்பு3ஜா ஸோ1ப4னா
ஸ்1வேத பங்கஜாஸனா ஸு-ரத3னா
புராரி கு3ரு கு3ஹ ஹ்ரு2த3ய ரஞ்ஜனீ
முராரி ஸ்னுஷா நிரஞ்ஜனீ
variations
வரா ஸா1ரதா3 – பரா ஸா1ரதா3
.
ಪಲ್ಲವಿ
ಕಲಾವತೀ ಕಮಲಾಸನ ಯುವತೀ
ಕಲ್ಯಾಣಂ ಕಲಯತು ಸರಸ್ವತೀ
ಅನುಪಲ್ಲವಿ
ಬಲಾಬಲಾ ಮಂತ್ರಾರ್ಣ ರೂಪಿಣೀ
ಭಾರತೀ ಮಾತೃಕಾ ಶರೀರಿಣೀ
(ಮಧ್ಯಮ ಕಾಲ ಸಾಹಿತ್ಯಮ್)
ಮಲಾಲಿ ವಿದಾರಿಣೀ ವಾಗ್ವಾಣೀ
ಮಧು-ಕರ ವೇಣೀ ವೀಣಾ ಪಾಣೀ
ಚರಣಮ್
ಶರದ್ಜ್ಯೋತ್ಸ್ನಾ ಶುಭ್ರಾಕಾರಾ
ಶಶಿ ವದನಾ ಕಾಶ್ಮೀರ ವಿಹಾರಾ
ವರಾ ಶಾರದಾ ಪರಾऽಙ್ಕುಶ ಧರಾ
ವರದಾಭಯ ಪಾಶ ಪುಸ್ತಕ ಕರಾ
(ಮಧ್ಯಮ ಕಾಲ ಸಾಹಿತ್ಯಮ್)
ಸುರಾರ್ಚಿತ ಪದಾಂಬುಜಾ ಶೋಭನಾ
ಶ್ವೇತ ಪಂಕಜಾಸನಾ ಸು-ರದನಾ
ಪುರಾರಿ ಗುರು ಗುಹ ಹೃದಯ ರಂಜನೀ
ಮುರಾರಿ ಸ್ನುಷಾ ನಿರಂಜನೀ
variations
ವರಾ ಶಾರದಾ – ಪರಾ ಶಾರದಾ
.
पल्लवि
कलावती कमलासन युवती
कल्याणं कलयतु सरस्वती
अनुपल्लवि
बलाबला मन्त्रार्ण रूपिणी
भारती मातृका शरीरिणी
(मध्यम काल साहित्यम्)
मलालि विदारिणी वाग्वाणी
मधु-कर वेणी वीणा पाणी
चरणम्
शरद्ज्योत्स्ना शुभ्राकारा
शशि वदना काश्मीर विहारा
वरा शारदा पराऽङ्कुश धरा
वरदाभय पाश पुस्तक करा
(मध्यम काल साहित्यम्)
सुरार्चित पदाम्बुजा शोभना
श्वेत पङ्कजासना सु-रदना
पुरारि गुरु गुह हृदय रञ्जनी
मुरारि स्नुषा निरञ्जनी
variations
वरा शारदा – परा शारदा
.
pallavi
kalAvatI kamalAsana yuvatI
kalyANaM kalayatu sarasvatI
anupallavi
balAbalA mantrArNa rUpiNI
bhAratI mAtRkA SarIriNI
(madhyama kAla sAhityam)
malAli vidAriNI vAgvANI
madhu-kara vENI vINA pANI
caraNam
SaradjyOtsnA SubhrAkArA
SaSi vadanA kASmIra vihArA
varA SAradA parA(a)nkuSa dharA
varadAbhaya pASa pustaka karA
(madhyama kAla sAhityam)
surArcita padAmbujA SObhanA
SvEta pankajAsanA su-radanA
purAri guru guha hRdaya ranjanI
murAri snushA niranjanI
variations
varA SAradA – parA SAradA
.
പല്ലവി
കലാവതീ കമലാസന യുവതീ
കല്യാണം കലയതു സരസ്വതീ
അനുപല്ലവി
ബലാബലാ മന്ത്രാര്ണ രൂപിണീ
ഭാരതീ മാതൃകാ ശരീരിണീ
(മധ്യമ കാല സാഹിത്യമ്)
മലാലി വിദാരിണീ വാഗ്വാണീ
മധു-കര വേണീ വീണാ പാണീ
ചരണമ്
ശരദ്ജ്യോത്സ്നാ ശുഭ്രാകാരാ
ശശി വദനാ കാശ്മീര വിഹാരാ
വരാ ശാരദാ പരാऽങ്കുശ ധരാ
വരദാഭയ പാശ പുസ്തക കരാ
(മധ്യമ കാല സാഹിത്യമ്)
സുരാര്ചിത പദാമ്ബുജാ ശോഭനാ
ശ്വേത പങ്കജാസനാ സു-രദനാ
പുരാരി ഗുരു ഗുഹ ഹൃദയ രഞ്ജനീ
മുരാരി സ്നുഷാ നിരഞ്ജനീ
variations
വരാ ശാരദാ – പരാ ശാരദാ
.
Pallavi
The youthful consort of Brahma; The abode of arts ! Grant auspiciouness ! O sarasvathi !
Anupallavi
The form of the mantra balA abalA; The form of alphabets known as mantras; Bharathi! the one who removes the evilsome enemies; the goddess of speech, Vani, the one who has tresses which are black as the bee; the one who holds the veena in her hands
Charanam
The one who is as white as the autumnal Moon; The one with moonlike countenance; the one who takes abode in kashmir ; the revered sharadha; The one who has the goad, bears the varada and abhaya mudras, noose and a book in her hands. The lotus feet worshipped by devas; the splendrous one; the one who is seated on a white lotus; the one with beautiful teeth; the one who captivates the hearts of Shiva – the puras and guruguha; the niece of vishnu; the blemishless one.
.