Composer: Sri Tallapaka Annamacharya (Annamayya అన్నమయ్య) , May 9, 1408 – February 23, 1503 was born to Narayana Suri and Lakkamamba in Tallapaka, a village in current day Kadapa district of Andhra Pradesh. More….
Keerthana No. 202
Copper Sheet No. 65
Pallavi: Kalasi Kakalabettu kanusannalane (కలసి కాఁకలఁబెట్ట కనుసన్నలనె)
Ragam: Mukhari
Language: Telugu (తెలుగు)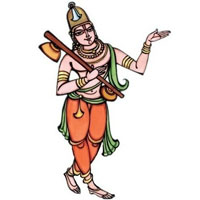 Recitals
Awaiting Contributions.
…
Awaiting Contributions.
[audio: audio-instrumental-file-name.mp3].
This Kriti was originally composed in Telugu. Other languages are for your convenience.
పల్లవి
కలసి కాఁకలఁబెట్ట కనుసన్నలనె తిట్ట
చలపట్ట నీకుఁజెల్లే జాణఁడే యతఁడు
చరణములు
1.పగటుగుబ్బలురాయ పసిఁడి మట్టెలు మ్రోయ
నగవువెన్నెల గాయ నడచేవు
వగ నిన్ను భ్రమయించ వలపువారిధి ముంచ
జగడాలు వచరించ చతురుఁడే యతఁడు
2.చూపులనె పగచాట సొబగులఁ గనుగీఁటఁ
దీపు పైపైమీఁటఁ దిరిగేవు
కోపగింతలనేఁప కూరిములు పైఁజాఁప
రాపులు పెరరేఁప రసికుఁడే యతఁడు
3.సందుల దండలు జార జవ్వాదిచెమట గార
నందములు దైవార నలనేవు
కందువుల వినుఁగూడి కరఁగి సిగ్గులు వీడి
విందై నీ తోడుతనాడే వేంకటేశుఁడితఁడు
.
Pallavi
kalasi kA@mkala@mbeTTa kanusannalane tiTTa
calapaTTa nIku@mjellE jANa@mDE yata@mDu
Charanams
1.pagaTugubbalurAya pasi@mDi maTTelu mrOya
nagavuvennela gAya naDacEvu
vaga ninnu bhramayimca valapuvAridhi mumca
jagaDAlu vacarimca caturu@mDE yata@mDu
2.cUpulane pagacATa sobagula@m ganugI@mTa@m
dIpu paipaimI@mTa@m dirigEvu
kOpagimtalanE@mpa kUrimulu pai@mjA@mpa
rApulu perarE@mpa rasiku@mDE yata@mDu
3.samdula damDalu jAra javvAdicemaTa gAra
namdamulu daivAra nalanEvu
kamduvula vinu@mgUDi kara@mgi siggulu vIDi
vimdai nI tODutanADE vEmkaTESu@mDita@mDu
.

We will update this page , once we find comprehensive meaning. Feel free to contribute if you know.
.