Composer: Muttukumaraswamy (முத்துகுமாரச்வாமி) popularly known as Muthuswamy Dikshithar (முத்துஸ்வாமி தீக்ஷிதர் – ముత్తుస్వామీ డిక్షితర్), (March 24, 1775 – October 21, 1835) was born in Tiruvarur (of Thanjavur district of Tamil Nadu) to a Tamil Iyer Brahmin couple Ramaswami Dikshitar and Subbamma, as the eldest son. He also had two younger brothers Baluswami, Chinnaswami and a sister Balambal.Chidambaranatha Yogi was his guru. More…

Raagam: Kaambhoji
Taalam: Ata
Diety: Kamalamba Navavarna Kritis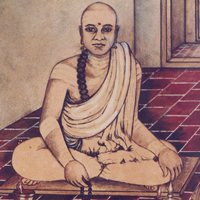 .
Recitals
Album: Unknown | Voice: D.K.Jayaraman
Album: Unknown | Voice: P.S.Iyer
Album: Unknown | Voice: Dr.Semmangudi, R.Srinivasa Iyer, Salem P.Sundareshan's Disciples

Awaiting Contributions.

We believe this kriti was originally composed in sanskrit. Other languages are for your convenience.
పల్లవి
కమలాంబికాయై కనకాంశుకాయై
కర్పూర వీటికాయై నమస్తే నమస్తే
అనుపల్లవి
కమలా కాంతానుజాయై కామేశ్వర్యై అజాయై
హిమ గిరి తనుజాయై హ్రీంకార పూజ్యాయై
(మధ్యమ కాల సాహిత్యమ్)
కమలా నగర విహారిణ్యై ఖల సమూహ సంహారిణ్యై
కమనీయ రత్న హారిణ్యై కలి కల్మష పరిహారిణ్యై
చరణము
సకల సౌభాగ్య దాయకాంభోజ చరణాయై
సంక్షోభిణ్యాది శక్తి యుత చతుర్థావరణాయై
ప్రకట చతుర్దశ భువన భరణాయై
ప్రబల గురు గుహ సంప్రదాయాంతఃకరణాయై
అకళంక రూప వర్ణాయై అపర్ణాయై సుపర్ణాయై
సు-కర ధృత చాప బాణాయై శోభన-కర మను కోణాయై
(మధ్యమ కాల సాహిత్యమ్)
సకుంకుమాది లేపనాయై చరాచరాది కల్పనాయై
చికుర విజిత నీల ఘనాయై చిదానంద పూర్ణ ఘనాయై
variations
వీటికాయై – వీడికాయై
చతుర్థావరణాయై – చతుర్థ్యావరణాయై
.
பல்லவி
கமலாம்பி3காயை கனகாம்ஸு1காயை
கர்பூர வீடிகாயை நமஸ்தே நமஸ்தே
அனுபல்லவி
கமலா காந்தானுஜாயை காமேஸ்1வர்யை அஜாயை
ஹிம கி3ரி தனுஜாயை ஹ்ரீங்கார பூஜ்யாயை
(மத்4யம கால ஸாஹித்யம்)
கமலா நக3ர விஹாரிண்யை க2ல ஸமூஹ ஸம்ஹாரிண்யை
கமனீய ரத்ன ஹாரிண்யை கலி கல்மஷ பரிஹாரிண்யை
சரணம்
ஸகல ஸௌபா4க்3ய தா3யகாம்போ4ஜ சரணாயை
ஸங்க்ஷோபி4ண்யாதி3 ஸ1க்தி யுத சதுர்தா2வரணாயை
ப்ரகட சதுர்த3ஸ1 பு4வன ப4ரணாயை
ப்ரப3ல கு3ரு கு3ஹ ஸம்ப்ரதா3யாந்த:கரணாயை
அகளங்க ரூப வர்ணாயை அபர்ணாயை ஸுபர்ணாயை
ஸு-கர த்4ரு2த சாப பா3ணாயை ஸோ1ப4ன-கர மனு கோணாயை
(மத்4யம கால ஸாஹித்யம்)
ஸகுங்குமாதி3 லேபனாயை சராசராதி3 கல்பனாயை
சிகுர விஜித நீல க4னாயை சிதா3னந்த3 பூர்ண க4னாயை
variations
வீடிகாயை – வீடி3காயை
சதுர்தா2வரணாயை – சதுர்த்2யாவரணாயை
.
ಪಲ್ಲವಿ
ಕಮಲಾಂಬಿಕಾಯೈ ಕನಕಾಂಶುಕಾಯೈ
ಕರ್ಪೂರ ವೀಟಿಕಾಯೈ ನಮಸ್ತೇ ನಮಸ್ತೇ
ಅನುಪಲ್ಲವಿ
ಕಮಲಾ ಕಾಂತಾನುಜಾಯೈ ಕಾಮೇಶ್ವರ್ಯೈ ಅಜಾಯೈ
ಹಿಮ ಗಿರಿ ತನುಜಾಯೈ ಹ್ರೀಂಕಾರ ಪೂಜ್ಯಾಯೈ
(ಮಧ್ಯಮ ಕಾಲ ಸಾಹಿತ್ಯಮ್)
ಕಮಲಾ ನಗರ ವಿಹಾರಿಣ್ಯೈ ಖಲ ಸಮೂಹ ಸಂಹಾರಿಣ್ಯೈ
ಕಮನೀಯ ರತ್ನ ಹಾರಿಣ್ಯೈ ಕಲಿ ಕಲ್ಮಷ ಪರಿಹಾರಿಣ್ಯೈ
ಚರಣಮ್
ಸಕಲ ಸೌಭಾಗ್ಯ ದಾಯಕಾಂಭೋಜ ಚರಣಾಯೈ
ಸಂಕ್ಷೋಭಿಣ್ಯಾದಿ ಶಕ್ತಿ ಯುತ ಚತುರ್ಥಾವರಣಾಯೈ
ಪ್ರಕಟ ಚತುರ್ದಶ ಭುವನ ಭರಣಾಯೈ
ಪ್ರಬಲ ಗುರು ಗುಹ ಸಂಪ್ರದಾಯಾಂತಃಕರಣಾಯೈ
ಅಕಳಂಕ ರೂಪ ವರ್ಣಾಯೈ ಅಪರ್ಣಾಯೈ ಸುಪರ್ಣಾಯೈ
ಸು-ಕರ ಧೃತ ಚಾಪ ಬಾಣಾಯೈ ಶೋಭನ-ಕರ ಮನು ಕೋಣಾಯೈ
(ಮಧ್ಯಮ ಕಾಲ ಸಾಹಿತ್ಯಮ್)
ಸಕುಂಕುಮಾದಿ ಲೇಪನಾಯೈ ಚರಾಚರಾದಿ ಕಲ್ಪನಾಯೈ
ಚಿಕುರ ವಿಜಿತ ನೀಲ ಘನಾಯೈ ಚಿದಾನಂದ ಪೂರ್ಣ ಘನಾಯೈ
variations
ವೀಟಿಕಾಯೈ – ವೀಡಿಕಾಯೈ
ಚತುರ್ಥಾವರಣಾಯೈ – ಚತುರ್ಥ್ಯಾವರಣಾಯೈ
.
पल्लवि
कमलाम्बिकायै कनकांशुकायै
कर्पूर वीटिकायै नमस्ते नमस्ते
अनुपल्लवि
कमला कान्तानुजायै कामेश्वर्यै अजायै
हिम गिरि तनुजायै ह्रींकार पूज्यायै
(मध्यम काल साहित्यम्)
कमला नगर विहारिण्यै खल समूह संहारिण्यै
कमनीय रत्न हारिण्यै कलि कल्मष परिहारिण्यै
चरणम्
सकल सौभाग्य दायकाम्भोज चरणायै
संक्षोभिण्यादि शक्ति युत चतुर्थावरणायै
प्रकट चतुर्दश भुवन भरणायै
प्रबल गुरु गुह सम्प्रदायान्तःकरणायै
अकळङ्क रूप वर्णायै अपर्णायै सुपर्णायै
सु-कर धृत चाप बाणायै शोभन-कर मनु कोणायै
(मध्यम काल साहित्यम्)
सकुङ्कुमादि लेपनायै चराचरादि कल्पनायै
चिकुर विजित नील घनायै चिदानन्द पूर्ण घनायै
variations
वीटिकायै – वीडिकायै
चतुर्थावरणायै – चतुर्थ्यावरणायै
.
pallavi
kamalAmbikAyai kanakAMSukAyai
karpUra vITikAyai namastE namastE
anupallavi
kamalA kAntAnujAyai kAmESvaryai ajAyai
hima giri tanujAyai hrIMkAra pUjyAyai
(madhyama kAla sAhityam)
kamalA nagara vihAriNyai khala samUha saMhAriNyai
kamanIya ratna hAriNyai kali kalmasha parihAriNyai
caraNam
sakala saubhAgya dAyakAmbhOja caraNAyai
saMkshObhiNyAdi Sakti yuta caturthAvaraNAyai
prakaTa caturdaSa bhuvana bharaNAyai
prabala guru guha sampradAyAntaHkaraNAyai
akaLanka rUpa varNAyai aparNAyai suparNAyai
su-kara dhRta cApa bANAyai SObhana-kara manu kONAyai
(madhyama kAla sAhityam)
sakunkumAdi lEpanAyai carAcarAdi kalpanAyai
cikura vijita nIla ghanAyai cidAnanda pUrNa ghanAyai
variations
vITikAyai – vIDikAyai
caturthAvaraNAyai – caturthyAvaraNAyai
.
പല്ലവി
കമലാമ്ബികായൈ കനകാംശുകായൈ
കര്പൂര വീടികായൈ നമസ്തേ നമസ്തേ
അനുപല്ലവി
കമലാ കാന്താനുജായൈ കാമേശ്വര്യൈ അജായൈ
ഹിമ ഗിരി തനുജായൈ ഹ്രീങ്കാര പൂജ്യായൈ
(മധ്യമ കാല സാഹിത്യമ്)
കമലാ നഗര വിഹാരിണ്യൈ ഖല സമൂഹ സംഹാരിണ്യൈ
കമനീയ രത്ന ഹാരിണ്യൈ കലി കല്മഷ പരിഹാരിണ്യൈ
ചരണമ്
സകല സൌഭാഗ്യ ദായകാമ്ഭോജ ചരണായൈ
സങ്ക്ഷോഭിണ്യാദി ശക്തി യുത ചതുര്ഥാവരണായൈ
പ്രകട ചതുര്ദശ ഭുവന ഭരണായൈ
പ്രബല ഗുരു ഗുഹ സമ്പ്രദായാന്തഃകരണായൈ
അകളങ്ക രൂപ വര്ണായൈ അപര്ണായൈ സുപര്ണായൈ
സു-കര ധൃത ചാപ ബാണായൈ ശോഭന-കര മനു കോണായൈ
(മധ്യമ കാല സാഹിത്യമ്)
സകുങ്കുമാദി ലേപനായൈ ചരാചരാദി കല്പനായൈ
ചികുര വിജിത നീല ഘനായൈ ചിദാനന്ദ പൂര്ണ ഘനായൈ
variations
വീടികായൈ – വീഡികായൈ
ചതുര്ഥാവരണായൈ – ചതുര്ഥ്യാവരണായൈ
.
Pallavi:
Prostrations unto you kamalamba;The one who uses karpooraveetika – a mixture of betel and edible camphor; The one who wears resplendent golden garments.
Anupallavi:
The sister of vishnu – the lord of lakshmi; Kameshwari! The blemishless; The daughter of the Himalayas; the one worshipped by the mantra Hrim. The one who takes abode in Tiruvarur or Kamalanagara . The one who destroys the evil hordes; The one with the bejewelled necklace; The dispeller of the evils of Kali;
Charanam:
The one who has the lotus-like feet which gives all auspiciousness; The one who has the 4th sheath guarded by Shaktis like Samkshobhini. The one who sustains the famous 14 worlds; The one who holds the path of guruguha in her heart; the one with flawless lustre; The one named aparna and suparna; The one having the 14 bliss yielding manukonas; The one smeared with sacred kumkum; The one who created the universe – composed of the immovable and the movable; The one whose tresses outshine the black clouds; The essence of complete cidananda.
.