Composer: Sri Tallapaka Annamacharya (Annamayya అన్నమయ్య) , May 9, 1408 – February 23, 1503 was born to Narayana Suri and Lakkamamba in Tallapaka, a village in current day Kadapa district of Andhra Pradesh. More….
Keerthana No.443
Copper Sheet No. 90
Pallavi:Kamti Nide Yarthamu (కంటి నిదే యర్థము)
Ragam: Samantham
Language: Telugu (తెలుగు)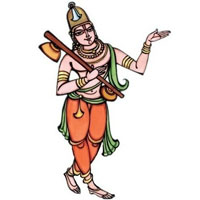 Recitals
Awaiting Contributions.
…
Awaiting Contributions.
[audio: audio-instrumental-file-name.mp3].
This Kriti was originally composed in Telugu. Other languages are for your convenience.
Pallavi
|| కంటి నిదే యర్థము ఘనశాస్త్రములు దవ్వి | నంటున నిందుకంటెను నాణె మెందూ లేదు ||
Charanams
|| మేటివైరాగ్యముకంటే మిక్కిలి లాభము లేదు | గాటపువిజ్ఞానముకంటే సుఖము లేదు |
మీటైనగురువుకంటే మీద రక్షకుడు లేడు | బాటసంసారముకంటే పగ లేదు ||
|| పరపీడసేయుకంటే పాపము మరెందు లేదు | పరోపకారముకంటే బహుపుణ్యము లేదు |
నిరతశాంతముకంటే నిజధర్మ మెందు లేదు | హరిదాసుడౌకంటే నట గతి లేదు ||
|| కర్మసంగము మానుకంటే దేజము లేదు | అర్మిలి గోరికమానేయంతకంటే బుద్ధి లేదు |
ధర్మపు శ్రీవేంకటేశు దగిలి శరణుజొచ్చి | నిర్మలాస నుండుకంటే నిశ్చయము లేదు ||
.
Pallavi
|| kaMTi nidE yarthamu GanaSAstramulu davvi | naMTuna niMdukaMTenu nANe meMdU lEdu ||
Charanams
|| mETivairAgyamukaMTE mikkili lABamu lEdu | gATapuvij~jAnamukaMTE suKamu lEdu |
mITainaguruvukaMTE mIda rakShakuDu lEDu | bATasaMsAramukaMTE paga lEdu ||
|| parapIDasEyukaMTE pApamu mareMdu lEdu | parOpakAramukaMTE bahupuNyamu lEdu |
nirataSAMtamukaMTE nijadharma meMdu lEdu | haridAsuDaukaMTE naTa gati lEdu ||
|| karmasaMgamu mAnukaMTE dEjamu lEdu | armili gOrikamAnEyaMtakaMTE buddhi lEdu |
dharmapu SrIvEMkaTESu dagili SaraNujocci | nirmalAsa nuMDukaMTE niScayamu lEdu ||
.

We will update this page , once we find comprehensive meaning. Feel free to contribute if you know.
.