Composer: Muttukumaraswamy (முத்துகுமாரச்வாமி) popularly known as Muthuswamy Dikshithar (முத்துஸ்வாமி தீக்ஷிதர் – ముత్తుస్వామీ డిక్షితర్), (March 24, 1775 – October 21, 1835) was born in Tiruvarur (of Thanjavur district of Tamil Nadu) to a Tamil Iyer Brahmin couple Ramaswami Dikshitar and Subbamma, as the eldest son. He also had two younger brothers Baluswami, Chinnaswami and a sister Balambal.Chidambaranatha Yogi was his guru. More…
Raagam: Maalava Sri
Taalam: Adi
Diety: Chidambaram – Nataraja Kritis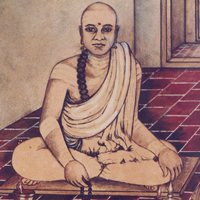 .
Recitals
Album: Unknown | Voice: Vijay Shiva

Awaiting Contributions.

We believe this kriti was originally composed in sanskrit. Other languages are for your convenience.
పల్లవి
కనక సభా పతిం భజ రే మానస
కమనీయ చిదంబర పురి విలసితమ్
సమష్టి చరణము
సనక సనందనాది వినుత పదం
శివ కామేశ్వరీ మనోల్లాసకరం
(మధ్యమ కాల సాహిత్యమ్)
దిన-కర చంద్రాగ్ని లోచనం
దీనార్తి హరం గురు గుహ ముదితమ్
.
பல்லவி
கனக ஸபா4 பதிம் ப4ஜ ரே மானஸ
கமனீய சித3ம்ப3ர புரி விலஸிதம்
ஸமஷ்டி சரணம்
ஸனக ஸனந்த3னாதி3 வினுத பத3ம்
ஸி1வ காமேஸ்1வரீ மனோல்லாஸகரம்
(மத்4யம கால ஸாஹித்யம்)
தி3ன-கர சந்த்3ராக்3னி லோசனம்
தீ3னார்தி ஹரம் கு3ரு கு3ஹ முதி3தம்
.
ಪಲ್ಲವಿ
ಕನಕ ಸಭಾ ಪತಿಂ ಭಜ ರೇ ಮಾನಸ
ಕಮನೀಯ ಚಿದಂಬರ ಪುರಿ ವಿಲಸಿತಮ್
ಸಮಷ್ಟಿ ಚರಣಮ್
ಸನಕ ಸನಂದನಾದಿ ವಿನುತ ಪದಂ
ಶಿವ ಕಾಮೇಶ್ವರೀ ಮನೋಲ್ಲಾಸಕರಂ
(ಮಧ್ಯಮ ಕಾಲ ಸಾಹಿತ್ಯಮ್)
ದಿನ-ಕರ ಚಂದ್ರಾಗ್ನಿ ಲೋಚನಂ
ದೀನಾರ್ತಿ ಹರಂ ಗುರು ಗುಹ ಮುದಿತಮ್
.
पल्लवि
कनक सभा पतिं भज रे मानस
कमनीय चिदम्बर पुरि विलसितम्
समष्टि चरणम्
सनक सनन्दनादि विनुत पदं
शिव कामेश्वरी मनोल्लासकरं
(मध्यम काल साहित्यम्)
दिन-कर चन्द्राग्नि लोचनं
दीनार्ति हरं गुरु गुह मुदितम्
.
pallavi
kanaka sabhA patiM bhaja rE mAnasa
kamanIya cidambara puri vilasitam
samashTi caraNam
sanaka sanandanAdi vinuta padaM
Siva kAmESvarI manOllAsakaraM
(madhyama kAla sAhityam)
dina-kara candrAgni lOcanaM
dInArti haraM guru guha muditam
.
പല്ലവി
കനക സഭാ പതിം ഭജ രേ മാനസ
കമനീയ ചിദമ്ബര പുരി വിലസിതമ്
സമഷ്ടി ചരണമ്
സനക സനന്ദനാദി വിനുത പദം
ശിവ കാമേശ്വരീ മനോല്ലാസകരം
(മധ്യമ കാല സാഹിത്യമ്)
ദിന-കര ചന്ദ്രാഗ്നി ലോചനം
ദീനാര്തി ഹരം ഗുരു ഗുഹ മുദിതമ്
.
Pallavi
O Mind, sing praises of Nataraja – the Lord of the Golden Hall.The one who dwells in the beautiful city of Cidambaram.
Samashti Charanam
The feet worshipped by sages like Sanaka and Sanandana.The one who brings joy to the mind of Shivakami.The one who has the sun, moon and fire as his eyes.The one who removes the difficulties of the destitute. The one who is pleased by guruguha
.