Composer: Muttukumaraswamy (முத்துகுமாரச்வாமி) popularly known as Muthuswamy Dikshithar (முத்துஸ்வாமி தீக்ஷிதர் – ముత్తుస్వామీ డిక్షితర్), (March 24, 1775 – October 21, 1835) was born in Tiruvarur (of Thanjavur district of Tamil Nadu) to a Tamil Iyer Brahmin couple Ramaswami Dikshitar and Subbamma, as the eldest son. He also had two younger brothers Baluswami, Chinnaswami and a sister Balambal.Chidambaranatha Yogi was his guru. More…

Raagam: Kanakaambari
Taalam: Rupakam
Diety: Kanchi – Kamakshi Devi Krithis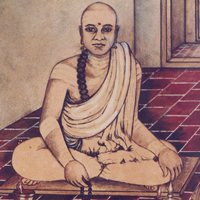 .
Recitals
Album: Unknown | Voice: T.M.Krishna

Awaiting Contributions.

We believe this kriti was originally composed in sanskrit. Other languages are for your convenience.
పల్లవి
కనకాంబరి కారుణ్యామృత లహరి
కామాక్షి మామవ కామేశ్వరి
అనుపల్లవి
దిన-కర చంద్ర తేజఃప్రకాశ-కరి
దేవి మహా త్రిపుర సుందరి శంకరి
చరణము
త్రైలోక్య మోహనాది చక్రేశ్వరి
త్రైపద పర బ్రహ్మ మహిషి భాస్వరి
సాలోకాది ముక్తి ప్రదాన-కరి
సదా శివ-కరి గురు గుహోదయ-కరి
(మధ్యమ కాల సాహిత్యమ్)
మూలాది నవాధారేశ్వరి శుభ-కరి
నీలాలక ధరి నిత్యానంద-కరి
లీలా విశ్వోత్పత్తి-స్థితి-లయ-కరి
బాలా పరమేశ్వరి పంచ-దశాక్షరి
variations
తేజఃప్రకాశ – తేజ ప్రకాశ
సాలోకాది – సాలోక్యాది
.
பல்லவி
கனகாம்ப3ரி காருண்யாம்ரு2த லஹரி
காமாக்ஷி மாமவ காமேஸ்1வரி
அனுபல்லவி
தி3ன-கர சந்த்3ர தேஜ:ப்ரகாஸ1-கரி
தே3வி மஹா த்ரிபுர ஸுந்த3ரி ஸ1ங்கரி
சரணம்
த்ரைலோக்ய மோஹனாதி3 சக்ரேஸ்1வரி
த்ரைபத3 பர ப்3ரஹ்ம மஹிஷி பா4ஸ்வரி
ஸாலோகாதி3 முக்தி ப்ரதா3ன-கரி
ஸதா3 ஸி1வ-கரி கு3ரு கு3ஹோத3ய-கரி
(மத்4யம கால ஸாஹித்யம்)
மூலாதி3 நவாதா4ரேஸ்1வரி ஸு1ப4-கரி
நீலாலக த4ரி நித்யானந்த3-கரி
லீலா விஸ்1வோத்பத்தி-ஸ்தி2தி-லய-கரி
பா3லா பரமேஸ்1வரி பஞ்ச-த3ஸா1க்ஷரி
variations
தேஜ:ப்ரகாஸ1 – தேஜ ப்ரகாஸ1
ஸாலோகாதி3 – ஸாலோக்யாதி3
.
ಪಲ್ಲವಿ
ಕನಕಾಂಬರಿ ಕಾರುಣ್ಯಾಮೃತ ಲಹರಿ
ಕಾಮಾಕ್ಷಿ ಮಾಮವ ಕಾಮೇಶ್ವರಿ
ಅನುಪಲ್ಲವಿ
ದಿನ-ಕರ ಚಂದ್ರ ತೇಜಃಪ್ರಕಾಶ-ಕರಿ
ದೇವಿ ಮಹಾ ತ್ರಿಪುರ ಸುಂದರಿ ಶಂಕರಿ
ಚರಣಮ್
ತ್ರೈಲೋಕ್ಯ ಮೋಹನಾದಿ ಚಕ್ರೇಶ್ವರಿ
ತ್ರೈಪದ ಪರ ಬ್ರಹ್ಮ ಮಹಿಷಿ ಭಾಸ್ವರಿ
ಸಾಲೋಕಾದಿ ಮುಕ್ತಿ ಪ್ರದಾನ-ಕರಿ
ಸದಾ ಶಿವ-ಕರಿ ಗುರು ಗುಹೋದಯ-ಕರಿ
(ಮಧ್ಯಮ ಕಾಲ ಸಾಹಿತ್ಯಮ್)
ಮೂಲಾದಿ ನವಾಧಾರೇಶ್ವರಿ ಶುಭ-ಕರಿ
ನೀಲಾಲಕ ಧರಿ ನಿತ್ಯಾನಂದ-ಕರಿ
ಲೀಲಾ ವಿಶ್ವೋತ್ಪತ್ತಿ-ಸ್ಥಿತಿ-ಲಯ-ಕರಿ
ಬಾಲಾ ಪರಮೇಶ್ವರಿ ಪಂಚ-ದಶಾಕ್ಷರಿ
variations
ತೇಜಃಪ್ರಕಾಶ – ತೇಜ ಪ್ರಕಾಶ
ಸಾಲೋಕಾದಿ – ಸಾಲೋಕ್ಯಾದಿ
.
पल्लवि
कनकाम्बरि कारुण्यामृत लहरि
कामाक्षि मामव कामेश्वरि
अनुपल्लवि
दिन-कर चन्द्र तेजःप्रकाश-करि
देवि महा त्रिपुर सुन्दरि शङ्करि
चरणम्
त्रैलोक्य मोहनादि चक्रेश्वरि
त्रैपद पर ब्रह्म महिषि भास्वरि
सालोकादि मुक्ति प्रदान-करि
सदा शिव-करि गुरु गुहोदय-करि
(मध्यम काल साहित्यम्)
मूलादि नवाधारेश्वरि शुभ-करि
नीलालक धरि नित्यानन्द-करि
लीला विश्वोत्पत्ति-स्थिति-लय-करि
बाला परमेश्वरि पञ्च-दशाक्षरि
variations
तेजःप्रकाश – तेज प्रकाश
सालोकादि – सालोक्यादि
.
pallavi
kanakAmbari kAruNyAmRta lahari
kAmAkshi mAmava kAmESvari
anupallavi
dina-kara candra tEjaHprakASa-kari
dEvi mahA tripura sundari Sankari
caraNam
trailOkya mOhanAdi cakrESvari
traipada para brahma mahishi bhAsvari
sAlOkAdi mukti pradAna-kari
sadA Siva-kari guru guhOdaya-kari
(madhyama kAla sAhityam)
mUlAdi navAdhArESvari Subha-kari
nIlAlaka dhari nityAnanda-kari
lIlA viSvOtpatti-sthiti-laya-kari
bAlA paramESvari panca-daSAkshari
variations
tEjaHprakASa – tEja prakASa
sAlOkAdi – sAlOkyAdi
.
പല്ലവി
കനകാമ്ബരി കാരുണ്യാമൃത ലഹരി
കാമാക്ഷി മാമവ കാമേശ്വരി
അനുപല്ലവി
ദിന-കര ചന്ദ്ര തേജഃപ്രകാശ-കരി
ദേവി മഹാ ത്രിപുര സുന്ദരി ശങ്കരി
ചരണമ്
ത്രൈലോക്യ മോഹനാദി ചക്രേശ്വരി
ത്രൈപദ പര ബ്രഹ്മ മഹിഷി ഭാസ്വരി
സാലോകാദി മുക്തി പ്രദാന-കരി
സദാ ശിവ-കരി ഗുരു ഗുഹോദയ-കരി
(മധ്യമ കാല സാഹിത്യമ്)
മൂലാദി നവാധാരേശ്വരി ശുഭ-കരി
നീലാലക ധരി നിത്യാനന്ദ-കരി
ലീലാ വിശ്വോത്പത്തി-സ്ഥിതി-ലയ-കരി
ബാലാ പരമേശ്വരി പഞ്ച-ദശാക്ഷരി
variations
തേജഃപ്രകാശ – തേജ പ്രകാശ
സാലോകാദി – സാലോക്യാദി
.
Pallavi
Kamakshi ! the one wearing golden adornments. The wave of the nectar of mercy ! protect me! O kameshvari.
Anupallavi
The one who imports splendour to the sun and moon; Devi ! Maha tiripura sundari; the harbinger of suspiciousness;
Charanam
The one who rules our the chakras beginning with trailokya Mohana Chakra; The goddess who is the queen of the supreme represented by the 3 words (That art Thou) ; the resplendent one; the one who bestows the stages of liberation beginning with Saloka. The one who always creates auspiciousness; the one who is the cause for the birth of guruguha; the Goddess who controls the 9 adharas beginning with the mooladhara; the auspicious the one who has black tresses; the cause of eternal bliss;
The one who creates, sustains and annihilates the universe as a mere sport; the form known as Bala Parameshwari. The form of 15 lettered mantra.
.