Composer: Muttukumaraswamy (मुत्तुकुमर स्वम्य) popularly known as Muthuswamy Dikshithar (முத்துஸ்வாமி தீக்ஷிதர் – ముత్తుస్వామీ డిక్షితర్), (March 24, 1775 – October 21, 1835) was born in Tiruvarur (of Thanjavur district of Tamil Nadu) to a Tamil Iyer Brahmin couple Ramaswami Dikshitar and Subbamma, as the eldest son. He also had two younger brothers Baluswami, Chinnaswami and a sister Balambal.Chidambaranatha Yogi was his guru. More…

Raagam: Saveri
Taalam: Rupakam
Diety: ViNayaka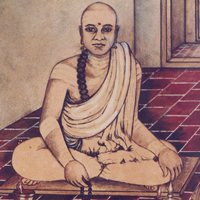 .
Recitals
Album: Unknown | Voice: G.N.Balasubramaniam
Album: Unknown | Voice: Nisha Rajagopal
Album: Unknown | Voice: Sudha Raghunathan

Awaiting Contributions.

We believe this kriti was originally composed in sanskrit. Other languages are for your convenience.
కరి కళభ ముఖమ్ – రాగం సావేరి – తాళం రూపకమ్
పల్లవి
కరి కళభ ముఖం ఢుంఢి గణేశం భజరే రే చిత్త
కావేరీ తట స్థితం సావేరీ రాగ నుతమ్
అనుపల్లవి
హరి-హయాది సకల దేవతారాధిత పదాంబుజం
(మధ్యమ కాల సాహిత్యమ్)
గిరిజా తనుజం విజిత మనసిజం గురు గుహాగ్రజమ్
చరణమ్
మూలాధార చతుర్దళ పంకజ మధ్యస్థం
మోదక హస్తం ముని జన హృత్కమలస్థమ్
ఫాల చంద్రం సుముఖం కరుణా సాంద్రం
పాశాంకుశ ధరం పద్మ కరం సుందరమ్
(మధ్యమ కాల సాహిత్యమ్)
నీల గ్రీవ సుకుమారం నీరద శోభా హరం
పాలిత భక్తం ధీరం అపారం వారం వారమ్
variations:
చరణమ్ – సుకుమారం – కుమారం
.
கரி களப முகம் – ராகம் ஸாவேரி – தாளம் ரூபகம்
பல்லவி
கரி களப முக2ம் டுண்டி கணேஸம் பஜரே ரே சித்த
காவேரீ தட ஸ்திதம் ஸாவேரீ ராக நுதம்
அனுபல்லவி
ஹரி-ஹயாதி ஸகல தேவதாராதித பதாம்புஜம்
(மத்யம கால ஸாஹித்யம்)
கி3ரிஜா தனுஜம் விஜித மனஸிஜம் குரு குஹாக்ரஜம்
சரணம்
மூலாதார சதுர்தள பங்கஜ மத்யஸ்தம்
மோதக ஹஸ்தம் முனி ஜன ஹ்ருத்கமலஸ்தம்
பால சந்த்ரம் ஸுமுகம் கருணா ஸாந்த்ரம்
பாஸாங்குஸ தரம் பத்ம கரம் ஸுந்தரம்
(மத்4யம கால ஸாஹித்யம்)
நீல க்ரீவ ஸுகுமாரம் நீரத ஸோபா ஹரம்
பாலித பக்தம் தீரம் அபாரம் வாரம் வாரம்
variations:
சரணம் – ஸுகுமாரம் – குமாரம்
.
ಕರಿ ಕಳಭ ಮುಖಮ್ – ರಾಗಂ ಸಾವೇರಿ – ತಾಳಂ ರೂಪಕಮ್
ಪಲ್ಲವಿ
ಕರಿ ಕಳಭ ಮುಖಂ ಢುಂಢಿ ಗಣೇಶಂ ಭಜರೇ ರೇ ಚಿತ್ತ
ಕಾವೇರೀ ತಟ ಸ್ಥಿತಂ ಸಾವೇರೀ ರಾಗ ನುತಮ್
ಅನುಪಲ್ಲವಿ
ಹರಿ-ಹಯಾದಿ ಸಕಲ ದೇವತಾರಾಧಿತ ಪದಾಂಬುಜಂ
(ಮಧ್ಯಮ ಕಾಲ ಸಾಹಿತ್ಯಮ್)
ಗಿರಿಜಾ ತನುಜಂ ವಿಜಿತ ಮನಸಿಜಂ ಗುರು ಗುಹಾಗ್ರಜಮ್
ಚರಣಮ್
ಮೂಲಾಧಾರ ಚತುರ್ದಳ ಪಂಕಜ ಮಧ್ಯಸ್ಥಂ
ಮೋದಕ ಹಸ್ತಂ ಮುನಿ ಜನ ಹೃತ್ಕಮಲಸ್ಥಮ್
ಫಾಲ ಚಂದ್ರಂ ಸುಮುಖಂ ಕರುಣಾ ಸಾಂದ್ರಂ
ಪಾಶಾಂಕುಶ ಧರಂ ಪದ್ಮ ಕರಂ ಸುಂದರಮ್
(ಮಧ್ಯಮ ಕಾಲ ಸಾಹಿತ್ಯಮ್)
ನೀಲ ಗ್ರೀವ ಸುಕುಮಾರಂ ನೀರದ ಶೋಭಾ ಹರಂ
ಪಾಲಿತ ಭಕ್ತಂ ಧೀರಂ ಅಪಾರಂ ವಾರಂ ವಾರಮ್
variations:
ಚರಣಮ್ – ಸುಕುಮಾರಂ – ಕುಮಾರಂ
.
करि कळभ मुखम् – रागं सावेरि – ताळं रूपकम्
पल्लवि
करि कळभ मुखं ढुंढि गणेशं भजरे रे चित्त
कावेरी तट स्थितं सावेरी राग नुतम्
अनुपल्लवि
हरि-हयादि सकल देवताराधित पदाम्बुजं
(मध्यम काल साहित्यम्)
गिरिजा तनुजं विजित मनसिजं गुरु गुहाग्रजम्
चरणम्
मूलाधार चतुर्दळ पङ्कज मध्यस्थं
मोदक हस्तं मुनि जन हृत्कमलस्थम्
फाल चन्द्रं सुमुखं करुणा सान्द्रं
पाशाङ्कुश धरं पद्म करं सुन्दरम्
(मध्यम काल साहित्यम्)
नील ग्रीव सुकुमारं नीरद शोभा हरं
पालित भक्तं धीरं अपारं वारं वारम्
variations:
चरणम् – सुकुमारं – कुमारं
.
pallavi
kari kaLabha mukhaM DhuMDhi gaNESaM bhajarE rE citta
kAvErI taTa sthitaM sAvErI rAga nutam
anupallavi
hari-hayAdi sakala dEvatArAdhita padAmbujaM
(madhyama kAla sAhityam)
girijA tanujaM vijita manasijaM guru guhAgrajam
caraNam
mUlAdhAra caturdaLa pankaja madhyasthaM
mOdaka hastaM muni jana hRtkamalastham
phAla candraM sumukhaM karuNA sAndraM
pASAnkuSa dharaM padma karaM sundaram
(madhyama kAla sAhityam)
nIla grIva sukumAraM nIrada SObhA haraM
pAlita bhaktaM dhIraM apAraM vAraM vAram
variations:
caraNam – sukumAraM – kumAraM
.
കരി കളഭ മുഖമ് – രാഗം സാവേരി – താളം രൂപകമ്
പല്ലവി
കരി കളഭ മുഖം ഢുംഢി ഗണേശം ഭജരേ രേ ചിത്ത
കാവേരീ തട സ്ഥിതം സാവേരീ രാഗ നുതമ്
അനുപല്ലവി
ഹരി-ഹയാദി സകല ദേവതാരാധിത പദാമ്ബുജം
(മധ്യമ കാല സാഹിത്യമ്)
ഗിരിജാ തനുജം വിജിത മനസിജം ഗുരു ഗുഹാഗ്രജമ്
ചരണമ്
മൂലാധാര ചതുര്ദള പങ്കജ മധ്യസ്ഥം
മോദക ഹസ്തം മുനി ജന ഹൃത്കമലസ്ഥമ്
ഫാല ചന്ദ്രം സുമുഖം കരുണാ സാന്ദ്രം
പാശാങ്കുശ ധരം പദ്മ കരം സുന്ദരമ്
(മധ്യമ കാല സാഹിത്യമ്)
നീല ഗ്രീവ സുകുമാരം നീരദ ശോഭാ ഹരം
പാലിത ഭക്തം ധീരം അപാരം വാരം വാരമ്
variations:
ചരണമ് – സുകുമാരം – കുമാരം
.
Pallavi:
O mind! Worship the one who has the face of a young elephant calf, Dundi Ganesha, who sits on the banks of the River Kaveri and who is praised by the raga saveri.
Anupallavi :
One with the lotus feet worshipped by Indra and all the devas, the son of Parvathi the daughterr of the mountains,one hwo surpasses the beauty of the cupid [ or one who has his senses under control ], the elder brother of guruguha.
Charanam :
One who is seated at the center of the four-petalled lotus of Mooladhara1 one who has a modaka in his hands, one who dwells in the lotus-like hearts of the sages,one who wears the moon on his forehead,
the pleasant-faced one,one who is full of grace, one who bears the noose and the goad,the one with lotus-like hands and the one who is beautiful,the son of the blue-necked Shiva; the one who is like the rain-bearing cloud in mercy, the protector of devotees.
.