Composer: Sri Tallapaka Annamacharya (Annamayya అన్నమయ్య) , May 9, 1408 – February 23, 1503 was born to Narayana Suri and Lakkamamba in Tallapaka, a village in current day Kadapa district of Andhra Pradesh. More….
Keerthana No. 225
Copper Sheet No. 69
Pallavi:Kavayagavalenamti (కవయఁగవలెనంటి)
Ragam: Sriragam
Language: Telugu (తెలుగు)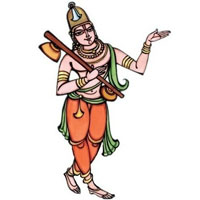 Recitals
Awaiting Contributions.
…
Awaiting Contributions.
[audio: audio-instrumental-file-name.mp3].
This Kriti was originally composed in Telugu. Other languages are for your convenience.
పల్లవి
కవయఁగవలెనంటి కాఁగలించేవా నీ-
వువిదలఁ దలఁచకవుండణొపేనా
చరణములు
1.పారిటాకులు గట్టి పారనోపేవా
యేరులెల్ల దాఁటి కొండలెక్కనోపేవా
యీరీతి వెదురుబియ్యమేరనోపేవా
పేరినటెనెలు తెచ్చి పెట్టనోపేవా
2.యెడమఁ గుడ్ని వింటనేయనోపేవా
అడవిమెకాల వేఁటలాడనోపేవా
కడఁగి చెంచెత నాతోఁ గలశుండేవా
అడరి నాపొత్తుల నారగించేవా
3.యిప్పటిమాఁటలు యీడేరించనోపేవా
చెప్పినట్టే కాఁపురము నేయనోపేవా
కప్పురంపుశయ్యపై వేంకటరాయఁడా
యెప్పుడుఁ బాయని చనవియ్యనోపేవా
.
Pallavi
kavaya@mgavalenamTi kA@mgalimcEvA nI-
vuvidala@m dala@mcakavumDaNopEnA
Charanams
1.pAriTAkulu gaTTi pAranOpEvA
yErulella dA@mTi komDalekkanOpEvA
yIrIti vedurubiyyamEranOpEvA
pErinaTenelu tecci peTTanOpEvA
2.yeDama@m guDni vimTanEyanOpEvA
aDavimekAla vE@mTalADanOpEvA
kaDa@mgi cemceta nAtO@m galaSumDEvA
aDari nApottula nAragimcEvA
3.yippaTimA@mTalu yIDErimcanOpEvA
ceppinaTTE kA@mpuramu nEyanOpEvA
kappurampuSayyapai vEmkaTarAya@mDA
yeppuDu@m bAyani canaviyyanOpEvA
.

We will update this page , once we find comprehensive meaning. Feel free to contribute if you know.
.