Composer: Sri Tallapaka Annamacharya (Annamayya అన్నమయ్య) , May 9, 1408 – February 23, 1503 was born to Narayana Suri and Lakkamamba in Tallapaka, a village in current day Kadapa district of Andhra Pradesh. More….
Keerthana No.257
Copper Sheet No. 293
Pallavi:Kodekade Vide (కోడెకాడె వీడె)
Ragam: Samantham
Language: Telugu (తెలుగు)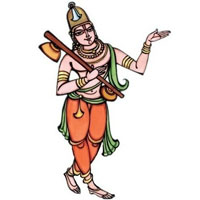 Recitals
Awaiting Contributions.
…
Awaiting Contributions.
[audio: audio-instrumental-file-name.mp3].
This Kriti was originally composed in Telugu. Other languages are for your convenience.
Pallavi
కోడెకాడె వీడె వీడె గోవిందుడు
కూడె ఇద్దరు సతుల గోవిందుడు
Charanams
గొల్లెతల వలపించె గోవిందుడు
కొల్లలాడె వెన్నలు గోవిందుడు
గుల్ల సంకుఁజక్రముల గోవిందుడు
గొల్లవారింట పెరిగె గోవిందుడు
కోలచే పసులగాచె గోవిందుడు
కూలగుమ్మె కంసుని గోవిందుడు
గోలయై వేల కొండెత్తె గోవిందుడు
గూళెపుసతులఁ దెచ్చె గోవిందుడు
కుందనపు చేలతోడి గోవిందుడు
గొందులు సందులు దూరె గోవిందుడు
కుందని శ్రీవేంకటాద్రి గోవిందుడు
గొందిఁ దోసె నసురల గోవిందుడు
.
Pallavi
kODekADe vIDe vIDe gOviMduDu
kUDe iddaru satula gOviMduDu
Charanams
golletala valapiMche gOviMduDu
kollalADe vennalu gOviMduDu
gulla saMku@Mjakramula gOviMduDu
gollavAriMTa perige gOviMduDu
kOlachE pasulagAche gOviMduDu
kUlagumme kaMsuni gOviMduDu
gOlayai vEla koMDette gOviMduDu
gULepusatula@M dechche gOviMduDu
kuMdanapu chElatODi gOviMduDu
goMdulu saMdulu dUre gOviMduDu
kuMdani SrIvEMkaTAdri gOviMduDu
goMdi@M dOse nasurala gOviMduDu
.

We will update this page , once we find comprehensive meaning. Feel free to contribute if you know.
.