Composer: Sri Tallapaka Annamacharya (Annamayya అన్నమయ్య) , May 9, 1408 – February 23, 1503 was born to Narayana Suri and Lakkamamba in Tallapaka, a village in current day Kadapa district of Andhra Pradesh. More….
Keerthana No.160
Copper Sheet No. 26
Pallavi:Komdari Kivi (కొందరి కివి)
Ragam: Desakshi
Language: Telugu (తెలుగు)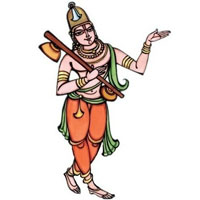 Recitals
Awaiting Contributions.
…
Awaiting Contributions.
[audio: audio-instrumental-file-name.mp3].
This Kriti was originally composed in Telugu. Other languages are for your convenience.
Pallavi
|| కొందరి కివి సమ్మతియైతే కొందరి కవి గావు | యిందరిలోపల నీవెడమాయలు యేగతి దెలిసే నేనయ్యా ||
Charanams
|| దూరము కర్మమునకు జ్ఞానము: తోడునే వొండొకటికిని | దూరము: పరమునకు బ్రపంచము తొలుత విరుద్ధంబు: |
దూరము విరతికి సంసారము: తుదమొదలే లేదు : | యీరీతుల నీ వెడమాయలు యేగతి దెలిసెద నేనయ్యా ||
|| కూడదు దేహమునకు నాత్మకు గోత్రవిరోధం: బెన్నడును | కూడదు కోపమునకు శాంతము గుణావగుణములను: |
కూడదు బంధమునకు మోక్షము కోరికలే కట్లుగాన: | యేడ గొలదిగా శ్రీహరిమాయలు యేగతి దెలిసెద నేనయ్యా ||
|| శ్రీవేంకటపతి నన్నీగతి జిక్కించితి నీజగమునను: | భావింపగాను నీమహిమ బహుముఖములయర్థముగాన: |
యేవిధమును నేటికి నాకిక యెందెందని తగిలెద నేను | దైవికమగు నీదాసానుదాస్యము దక్కినదే నాకు ||
.
Pallavi
|| koMdari kivi sammatiyaitE koMdari kavi gAvu | yiMdarilOpala nIveDamAyalu yEgati delisE nEnayyA ||
Charanams
|| dUramu karmamunaku j~jAnamu: tODunE voMDokaTikini | dUramu: paramunaku brapaMcamu toluta viruddhaMbu: |
dUramu viratiki saMsAramu: tudamodalE lEdu : | yIrItula nI veDamAyalu yEgati deliseda nEnayyA ||
|| kUDadu dEhamunaku nAtmaku gOtravirOdhaM: bennaDunu | kUDadu kOpamunaku SAMtamu guNAvaguNamulanu: |
kUDadu baMdhamunaku mOkShamu kOrikalE kaTlugAna: | yEDa goladigA SrIharimAyalu yEgati deliseda nEnayyA ||
|| SrIvEMkaTapati nannIgati jikkiMciti nIjagamunanu: | BAviMpagAnu nImahima bahumuKamulayarthamugAna: |
yEvidhamunu nETiki nAkika yeMdeMdani tagileda nEnu | daivikamagu nIdAsAnudAsyamu dakkinadE nAku ||
.

We will update this page , once we find comprehensive meaning. Feel free to contribute if you know.
.