Composer: Sri Tallapaka Annamacharya (Annamayya అన్నమయ్య) , May 9, 1408 – February 23, 1503 was born to Narayana Suri and Lakkamamba in Tallapaka, a village in current day Kadapa district of Andhra Pradesh. More….
Keerthana No.118
Copper Sheet No. 120
Pallavi:Kona moda ledo (కొన మొద లేదో)
Ragam:Malahari
Language: Telugu (తెలుగు)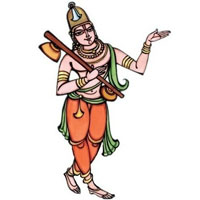 Recitals
Awaiting Contributions.
…
Awaiting Contributions.
[audio: audio-instrumental-file-name.mp3].
This Kriti was originally composed in Telugu. Other languages are for your convenience.
పల్లవి
కొన మొద లేదో గుఱిగాన రొరులు
మునుకొను సంసారమోహాంధమందు
చరణములు
1.తలఁచును బ్రహ్మండతతులకు నవ్వల
తలఁచేటిజీవుఁడు తా నణువు
అలరినయాసల ననలునుఁ గొనలును
వెలసి సంసావృక్షములొన
2.పుట్టునుఁ బొదలును భువి బహురూపుల
పుట్టేటియాతఁడు పొరినొకఁడే
వొట్టుక యిఁదును వుభయకర్మముల
చట్టెడుసంసారసాగరములను
3.తగులు నన్నిటా తనుభోగంబుల
తగిలేటిపురుషుఁడు తా ఘనుఁడు
నిగిడి శ్రీవేంకనిలయుఁడు గతైతే
అగపడ సంసారానందమందు
.
Pallavi
kona moda lEdO gu~rigAna rorulu
munukonu samsAramOhAmdhamamdu
Charanams
1.tala@mcunu brahmamDatatulaku navvala
tala@mcETijIvu@mDu tA naNuvu
alarinayAsala nanalunu@m gonalunu
velasi samsAvRkshamulona
2.puTTunu@m bodalunu Buvi bahurUpula
puTTETiyAta@mDu porinoka@mDE
voTTuka yi@mdunu vuBayakarmamula
caTTeDusamsArasAgaramulanu
3.tagulu nanniTA tanuBOgambula
tagilETipurushu@mDu tA Ganu@mDu
nigiDi SrIvEmkanilayu@mDu gataitE
agapaDa samsArAnamdamamdu
.

We will update this page , once we find comprehensive meaning. Feel free to contribute if you know.
.