Composer: Sri Tallapaka Annamacharya (Annamayya అన్నమయ్య) , May 9, 1408 – February 23, 1503 was born to Narayana Suri and Lakkamamba in Tallapaka, a village in current day Kadapa district of Andhra Pradesh. More….
Keerthana No.93
Copper Sheet No. 1016
Pallavi:Kurimi Galgite (కూరిమి గల్గితే)
Ragam: Mangala kousika
Language: Telugu (తెలుగు)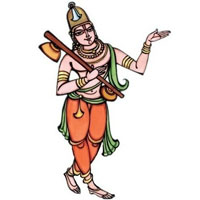 Recitals
Awaiting Contributions.
…
Awaiting Contributions.
[audio: audio-instrumental-file-name.mp3].
This Kriti was originally composed in Telugu. Other languages are for your convenience.
Pallavi
|| కూరిమి గల్గితే జాలు కోపించినా మేలువో | అరయ నోరమణుడ అంతాను మేలువో ||
Charanams
|| మనసున నీవు నన్ను మర్కవకున్నా జాలు | యెనసి నీ వేడ నున్నా వియ్యకోలే పో |
ననువు వలపు నీవు నాపై జల్లితే జాలు | వెనక నీవేమన్నా వేడుకవే పో ||
|| పాయము నీమేని మీద పచ్చిగా నుండితే జాలు | రాయడి విరహమైన రాజ్యపదవి |
యే యెడ నీ రూపొక మాటిటు పై బారితే జాలు | నాయములు దప్పి నీవు నడచినా మేలువో ||
|| పానుపుపై కూడి నాకు పంతమిచ్చితే జాలు | కానని కన్నుల నీ బింకాలు మేలేపో |
ఆనిన శ్రీ వేంకటేశ అంతలో నన్నేలితివి | కోనల నీ కొనగోరి గుర్కుతులు మేలువో ||
.
Pallavi
|| kUrimi galgitE jAlu kOpiMcinA mEluvO | araya nOramaNuDa aMtAnu mEluvO ||
Charanams
|| manasuna nIvu nannu marxavakunnA jAlu | yenasi nI vEDa nunnA viyyakOlE pO |
nanuvu valapu nIvu nApai jallitE jAlu | venaka nIvEmannA vEDukavE pO ||
|| pAyamu nImEni mIda paccigA nuMDitE jAlu | rAyaDi virahamaina rAjyapadavi |
yE yeDa nI rUpoka mATiTu pai bAritE jAlu | nAyamulu dappi nIvu naDacinA mEluvO ||
|| pAnupupai kUDi nAku paMtamiccitE jAlu | kAnani kannula nI biMkAlu mElEpO |
Anina SrI vEMkaTESa aMtalO nannElitivi | kOnala nI konagOri gurxutulu mEluvO ||
.

We will update this page , once we find comprehensive meaning. Feel free to contribute if you know.
.