Composer: Sri Tallapaka Annamacharya (Annamayya అన్నమయ్య) , May 9, 1408 – February 23, 1503 was born to Narayana Suri and Lakkamamba in Tallapaka, a village in current day Kadapa district of Andhra Pradesh. More….
Keerthana No. 165
Copper Sheet No. PTS-28
Pallavi: lakshmikalyAnamu (లక్ష్మీకల్యాణము)
Ragam: Aahiri
Language: Telugu (తెలుగు)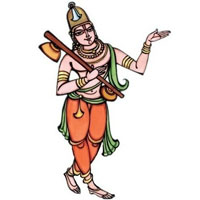 Recitals
Lakshmikalyanamu | లక్ష్మీకల్యాణము
Album: Private | Voice: Anandabhattar
Awaiting Contributions.
[audio: audio-instrumental-file-name.mp3].
This Kriti was originally composed in Telugu. Other languages are for your convenience.
Pallavi
లక్ష్మీకల్యాణము లలితోంబాడిమిదె నేము
లక్ష్మీనారాయణులే లలనయు నీవును ||
Charanams
1.చూపులు చూపులు మీకు సూసకమ్ బాసికము
వూపచన్ను గుబ్బలివి పూజికుండలు
తిపులమోవి తేనెలు తీరనిమధుపర్కము
దాపుగ వెండ్లి యాడరయ్య తగుందగు మీకును ||
2.మాటలు మీకిద్దఇకి మంత్రములు
మేటి తలంబ్రాలు మీలోమించు నవ్వులు
గాటమైన పులకలు కప్పుర వసంతాలు
నీటునం బెండ్లాడరయ్య నెరవేర మీకును ||
3.కౌగిలి కౌగిలి మీకు కందువపెండ్లి చవికె
పాగిన కోరికలె పావకొరళ్లు
ఆగిన శ్రీ వేంకటేశ అలమేలుమంగనీవు
వింగక పెండ్లాడరయ్య వేడ్కాయ మాకును ||
.
Pallavi
lakShmIkalyANamu lalitOMbADimide nEmu
lakShmInArAyaNulE lalanayu nIvunu ||
Charanams
1.chUpulu chUpulu mIku sUsakam bAsikamu
vUpachannu gubbalivi pUjikuMDalu
tipulamOvi tEnelu tIranimadhuparkamu
dApuga veMDli yADarayya taguMdagu mIkunu ||
2.mATalu mIkiddaRiki maMtramulu
mETi talaMbrAlu mIlOmiMchu navvulu
gATamaina pulakalu kappura vasaMtAlu
nITunaM beMDlADarayya neravEra mIkunu ||
3.kougili kougili mIku kaMduvapeMDli chavike
pAgina kOrikale pAvakoraLlu
Agina SrI vEMkaTESa alamElumaMganIvu
viMgaka peMDlADarayya vEDkAya mAkunu ||
.

We will update this page , once we find comprehensive meaning. Feel free to contribute if you know.
.