Composer: Sri Tallapaka Annamacharya (Annamayya అన్నమయ్య) , May 9, 1408 – February 23, 1503 was born to Narayana Suri and Lakkamamba in Tallapaka, a village in current day Kadapa district of Andhra Pradesh. More….
Keerthana No. 281
Copper Sheet No. 949
Pallavi: MachchikatO Nelavayya (మచ్చికతో నేలవయ్య)
Ragam: Padi
Language: Telugu (తెలుగు)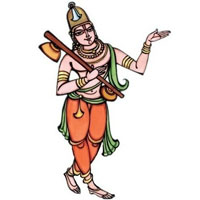 Recitals
Awaiting Contributions.
…
Awaiting Contributions.
[audio: audio-instrumental-file-name.mp3].
This Kriti was originally composed in Telugu. Other languages are for your convenience.
Pallavi
||మచ్చికతో నేలవయ్య మదన సామ్రాజ్యలక్శ్మీ
పచ్చి సింగారాల బండారాలు నిండెను ||
Charanams
||కొమరె తురుమునను గొప్పమేఘ ముదయించి
చెమట వాన గురిసె జెక్కులవెంట
అమర బులకపైరు లంతటాను జెలువొంది
ప్రమదాల పలవుల పంట లివె పండెను ||
||మించుల చూపుల తీగె మెఅ గులిట్టె మెరిచి
అంచె గోరికల జళ్ళవె పట్టెను
సంచితవు కుచముల జవ్వని రాసులు మించె
పొంచి నవ్వుల యామని పోదిగొనె నిదిగో ||
.
Pallavi
||machchikatO nElavayya madana sAmrAjyalakshmI
pachchi siMgArAla baMDArAlu niMDenu ||
Charanams
||komare turumunanu goppamEgha mudayiMchi
chemaTa vAna gurise jekkulaveMTa
amara bulakapairu laMtaTAnu jeluvoMdi
pramadAla palavula paMTa live paMDenu ||
||miMchula chUpula tIge meRa guliTTe merichi
aMche gOrikala jaLLave paTTenu
saMchitavu kuchamula javvani rAsulu miMche
poMchi navvula yAmani pOdigone nidigO ||
.

We will update this page , once we find comprehensive meaning. Feel free to contribute if you know.
.