Composer: Sri Tallapaka Annamacharya (Annamayya అన్నమయ్య) , May 9, 1408 – February 23, 1503 was born to Narayana Suri and Lakkamamba in Tallapaka, a village in current day Kadapa district of Andhra Pradesh. More….
Keerthana No. 45
Copper Sheet No. 7
Pallavi: Mamcidivo Samsaramu (మంచిదివో సంసారము)
Ragam: Lalitha
Language: Telugu (తెలుగు)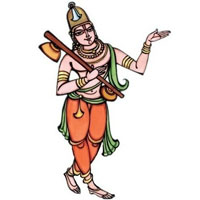 Recitals
Awaiting Contributions.
…
Awaiting Contributions.
[audio: audio-instrumental-file-name.mp3].
This Kriti was originally composed in Telugu. Other languages are for your convenience.
Pallavi
|| మంచిదివో సంసారము మదమత్సరములు మానిన | కంచును బెంచును నొకసరిగా దాచూచినను ||
Charanams
|| ఆపదలకు సంపదలకు నభిమానింపక యుండిన | పాపము బుణ్యము సంకల్పములని తెలిసినను |
కోపము శాంతము తమతమగుణాములుగా భావించిన | తాపము శైత్యమునకు దా దడబడకుండినను ||
|| వెలియును లోపలయును నొకవిధమై హృదయంబుండిన | పలుకునుబంతము దానొక భావన దోచి
తలపున దిరువేంకటగిరిదైవము నెలకొనియుండిన | సొలపక యిన్నిటికిని దా సోకోరుచెనైనా ||
.
Pallavi
||maMcidivO saMsAramu madamatsaramulu mAnina | kaMcunu beMcunu nokasarigA dAcUcinanu ||
Charanams
||Apadalaku saMpadalaku naBimAniMpaka yuMDina | pApamu buNyamu saMkalpamulani telisinanu |
kOpamu SAMtamu tamatamaguNAmulugA BAviMcina | tApamu Saityamunaku dA daDabaDakuMDinanu ||
|| veliyunu lOpalayunu nokavidhamai hRudayaMbuMDina | palukunubaMtamu dAnoka BAvana dOci
talapuna diruvEMkaTagiridaivamu nelakoniyuMDina | solapaka yinniTikini dA sOkOrucenainA ||
.

We will update this page , once we find comprehensive meaning. Feel free to contribute if you know.
.