Composer: Muttukumaraswamy (முத்துகுமாரச்வாமி) popularly known as Muthuswamy Dikshithar (முத்துஸ்வாமி தீக்ஷிதர் – ముత్తుస్వామీ డిక్షితర్), (March 24, 1775 – October 21, 1835) was born in Tiruvarur (of Thanjavur district of Tamil Nadu) to a Tamil Iyer Brahmin couple Ramaswami Dikshitar and Subbamma, as the eldest son. He also had two younger brothers Baluswami, Chinnaswami and a sister Balambal.Chidambaranatha Yogi was his guru. More…
Raagam: Ananda Bhairavi
Taalam: Rupakam
Diety: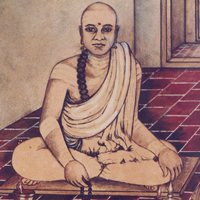 .
Recitals
Album: Unknown | Voice: S.Sowmya
Album: Unknown | Voice: A.R.Iyengarl
Album: Unknown | Voice: D.K.Pattammal
Album: Unknown | Voice: K.V.Narayanaswamy
Album: Unknown | Voice: Bombay Jayashri

Awaiting Contributions.

We believe this kriti was originally composed in sanskrit. Other languages are for your convenience.
పల్లవి
మానస గురు గుహ రూపం భజరే రే
మాయా-మయ హృత్తాపం త్యజరే రే
అనుపల్లవి
మానవ జన్మని సంప్రాప్తే సతి
పరమాత్మని నిరతిశయ సుఖం వ్రజరే రే
చరణం
సత్వ గుణోపాధి సహిత సదాశివం
స్వావిద్యా సమేత జీవోద్భవం
తత్వం తామస యుత విశ్వ వైభవం
తారకేశ్వరం ఆనంద భైరవం
(మధ్యమ కాల సాహిత్యం)
నత్వా శ్రీ గురు చరణం కృత్వా నామ స్మరణం
జిత్వా మోహావరణం మత్వా త్వదేక శరణం
.
பல்லவி
மானஸ கு3ரு கு3ஹ ரூபம் ப4ஜரே ரே
மாயா-மய ஹ்ரு2த்-தாபம் த்யஜரே ரே
அனுபல்லவி
மானவ ஜன்மனி ஸம்ப்ராப்தே ஸதி
பரமாத்மனி நிரதிஸ1ய ஸுக2ம் வ்ரஜரே ரே
சரணம்
ஸத்வ கு3ணோபாதி4 ஸஹித ஸதா3ஸி1வம்
ஸ்வாவித்3யா ஸமேத ஜீவோத்3ப4வம்
தத்வம் தாமஸ யுத விஸ்1வ வைப4வம்
தாரகேஸ்1வரம் ஆனந்த3 பை4ரவம்
(மத்4யம கால ஸாஹித்யம்)
நத்வா ஸ்ரீ கு3ரு சரணம் க்ரு2த்வா நாம ஸ்மரணம்
ஜித்வா மோஹாவரணம் மத்வா த்வதே3க ஸ1ரணம்
.
ಪಲ್ಲವಿ
ಮಾನಸ ಗುರು ಗುಹ ರೂಪಂ ಭಜರೇ ರೇ
ಮಾಯಾ-ಮಯ ಹೃತ್ತಾಪಂ ತ್ಯಜರೇ ರೇ
ಅನುಪಲ್ಲವಿ
ಮಾನವ ಜನ್ಮನಿ ಸಂಪ್ರಾಪ್ತೇ ಸತಿ
ಪರಮಾತ್ಮನಿ ನಿರತಿಶಯ ಸುಖಂ ವ್ರಜರೇ ರೇ
ಚರಣಂ
ಸತ್ವ ಗುಣೋಪಾಧಿ ಸಹಿತ ಸದಾಶಿವಂ
ಸ್ವಾವಿದ್ಯಾ ಸಮೇತ ಜೀವೋದ್ಭವಂ
ತತ್ವಂ ತಾಮಸ ಯುತ ವಿಶ್ವ ವೈಭವಂ
ತಾರಕೇಶ್ವರಂ ಆನಂದ ಭೈರವಂ
(ಮಧ್ಯಮ ಕಾಲ ಸಾಹಿತ್ಯಂ)
ನತ್ವಾ ಶ್ರೀ ಗುರು ಚರಣಂ ಕೃತ್ವಾ ನಾಮ ಸ್ಮರಣಂ
ಜಿತ್ವಾ ಮೋಹಾವರಣಂ ಮತ್ವಾ ತ್ವದೇಕ ಶರಣಂ
.
पल्लवि
मानस गुरु गुह रूपं भजरे रे
माया-मय हृत्तापं त्यजरे रे
अनुपल्लवि
मानव जन्मनि संप्राप्ते सति
परमात्मनि निरतिशय सुखं व्रजरे रे
चरणम्
सत्व गुणोपाधि सहित सदाशिवं
स्वाविद्या समेत जीवोद्भवम्
तत्वं तामस युत विश्व वैभवं
तारकेश्वरं आनन्द भैरवम्
(मध्यम काल साहित्यम्)
नत्वा श्री गुरु चरणं कृत्वा नाम स्मरणं
जित्वा मोहावरणं मत्वा त्वदेक शरणम्
.
pallavi
mAnasa guru guha rUpaM bhajarE rE
mAyA-maya hRttApaM tyajarE rE
anupallavi
mAnava janmani saMprAptE sati
paramAtmani niratiSaya sukhaM vrajarE rE
caraNam
satva guNOpAdhi sahita sadASivaM
svAvidyA samEta jIvOdbhavam
tatvaM tAmasa yuta viSva vaibhavaM
tArakESvaraM Ananda bhairavam
(madhyama kAla sAhityam)
natvA SrI guru caraNaM kRtvA nAma smaraNaM
jitvA mOhAvaraNaM matvA tvadEka SaraNam
.
പല്ലവി
മാനസ ഗുരു ഗുഹ രൂപം ഭജരേ രേ
മായാ-മയ ഹൃത്താപം ത്യജരേ രേ
അനുപല്ലവി
മാനവ ജന്മനി സമ്പ്രാപ്തേ സതി
പരമാത്മനി നിരതിശയ സുഖം വ്രജരേ രേ
ചരണമ്
സത്വ ഗുണോപാധി സഹിത സദാശിവം
സ്വാവിദ്യാ സമേത ജീവോദ്ഭവമ്
തത്വം താമസ യുത വിശ്വ വൈഭവം
താരകേശ്വരം ആനന്ദ ഭൈരവമ്
(മധ്യമ കാല സാഹിത്യമ്)
നത്വാ ശ്രീ ഗുരു ചരണം കൃത്വാ നാമ സ്മരണം
ജിത്വാ മോഹാവരണം മത്വാ ത്വദേക ശരണമ്
.
Pallavi:
O mind! Think of guha the form of guru.Forego the illusory afflictions of the heart.
Anupallavi:
Having obtained the form of a humanbeing, acquire the ultimate bliss from the supreme Lord.
Charanam:
The form of sadAshiva endowed with te quality of satva.The one who creates the individual souls which have the ignorance due to illusion.The truth that lies beyond the universe which is of the quality of tamas.The Lord who helps one cross the ocean of samsara/The form of Anandabhairava.
Worship the feet of the perceptor.Chant his name.
Conquer the sheath of desire.The sole refuge.
.