Composer: Sri Tallapaka Annamacharya (Annamayya అన్నమయ్య) , May 9, 1408 – February 23, 1503 was born to Narayana Suri and Lakkamamba in Tallapaka, a village in current day Kadapa district of Andhra Pradesh. More….
Keerthana No. 37
Copper Sheet No. 6
Pallavi: Manasija Guruditado (అంగడి నెవ్వరు)
Ragam: Sriragam
Language: Telugu (తెలుగు)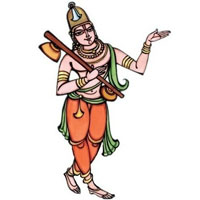 Recitals
Awaiting Contributions.
…
Awaiting Contributions.
[audio: audio-instrumental-file-name.mp3].
This Kriti was originally composed in Telugu. Other languages are for your convenience.
PAllavi
|| మనసిజ గురుడితడో మరియు గలడో వేద- | వినుతుడు డితడుగాక వేరొకడు గలడో ||
Charanams
|| అందరికి నితడెపో అంతరాత్ముడనుచు- | నందురితడో మరియు నవలడొకడో |
నందకధరుడు జగన్నాథుడచ్చుతుడు గో- | విందుడీతడు గాక వేరొకడు గలడో ||
|| తనర నిందరికి జైతన్యమొసగిన యాత- | డొనర నితడో మరియు నొకడు గలడో |
దినకరశతతేజుడగు దేవదేవుడు త- | ద్వినుతుడితడు గాక వేరొకడు గలడో ||
|| పంకజభవాదులకు బరదైవ మీతడని | అంకింతు రితడో అధికుడొకడో |
శాంకరీస్తోత్రములు సతతమును గైకొనెడి | వేంకటవిభుడో కాక వేరొకడు గలడో ||
.
Pallavi
||manasija guruDitaDO mariyu galaDO vEda- | vinutuDu DitaDugAka vErokaDu galaDO ||
Charanams
||aMdariki nitaDepO aMtarAtmuDanucu- | naMduritaDO mariyu navalaDokaDO |
naMdakadharuDu jagannAthuDaccutuDu gO- | viMduDItaDu gAka vErokaDu galaDO ||
||tanara niMdariki jaitanyamosagina yAta- | Donara nitaDO mariyu nokaDu galaDO |
dinakaraSatatEjuDagu dEvadEvuDu ta- | dvinutuDitaDu gAka vErokaDu galaDO ||
||paMkajaBavAdulaku baradaiva mItaDani | aMkiMtu ritaDO adhikuDokaDO |
SAMkarIstOtramulu satatamunu gaikoneDi | vEMkaTaviBuDO kAka vErokaDu galaDO ||
.

We will update this page , once we find comprehensive meaning. Feel free to contribute if you know.
.