Composer: Sri Tallapaka Annamacharya (Annamayya అన్నమయ్య) , May 9, 1408 – February 23, 1503 was born to Narayana Suri and Lakkamamba in Tallapaka, a village in current day Kadapa district of Andhra Pradesh. More….
Keerthana No. 152
Copper Sheet No. 326
Pallavi: Marri tanubogamulu (మఱి తనుభోగములు)
Ragam: Ravali
Language: Telugu (తెలుగు)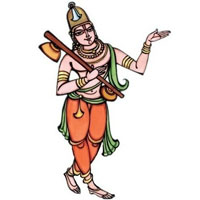 Recitals
Awaiting Contributions.
…
Awaiting Contributions.
[audio: audio-instrumental-file-name.mp3].
This Kriti was originally composed in Telugu. Other languages are for your convenience.
పల్లవి
మఱి తనుభోగములు మాయావిలాసములు
యెఱిఁగినట్ల నుండు మఱిపించుఁ దలఁపు
చరణములు
1.అనుశము నీకొలువు అది యెకటే నిజము
నినుఁదలఁచుటొకటే నిజము
పనిపడి నీదాసుఁడై బ్రదుకుటొకటే నిజ-
మొనర నిన్ను నుతించేదొక్కటే నిజము
2.పరగ నీమీదఁ జేయు భక్తియే నిలిచినది
నిరతపువైరాగ్యమే నిలిచినది
శరణని నీకుమొక్కేజ్ఞానమే నిలిచినది
అరసి నన్నుఁబూజించినదే నిలిచినది
3.చదివి నన్ను వెదకి సాధించుటే ఫ్లము
అదన నీకృపాపాత్రుఁడౌటే ఫలము
యెదుట నలమేల్మంగనేలిన శ్రీవేంకటేశ
యెసలోన నీధ్యాన మిన్నిటికి ఫలము
.
Pallavi
ma~ri tanuBOgamulu mAyAvilAsamulu
ye~ri@mginaTla nuMDu ma~ripiMcu@m dala@mpu
charanams
1.anuSamu nIkoluvu adi yekaTE nijamu
ninu@mdala@mcuTokaTE nijamu
panipaDi nIdAsu@mDai bradukuTokaTE nija-
monara ninnu nutiMcEdokkaTE nijamu
2.paraga nImIda@m jEyu BaktiyE nilicinadi
niratapuvairAgyamE nilicinadi
SaraNani nIkumokkEj~nAnamE nilicinadi
arasi nannu@mbUjiMcinadE nilicinadi
3.cadivi nannu vedaki sAdhiMcuTE Plamu
adana nIkRpApAtru@mDouTE Palamu
yeduTa nalamElmaMganElina SrIvEMkaTESa
yesalOna nIdhyAna minniTiki Palamu
.

We will update this page , once we find comprehensive meaning. Feel free to contribute if you know.
.