Composer: Sri Tallapaka Annamacharya (Annamayya అన్నమయ్య) , May 9, 1408 – February 23, 1503 was born to Narayana Suri and Lakkamamba in Tallapaka, a village in current day Kadapa district of Andhra Pradesh. More….
Keerthana No. 135
Copper Sheet No. 323
Pallavi: Marri vicharimca (మఱి విచారించ)
Ragam: Malahari
Language: Telugu (తెలుగు)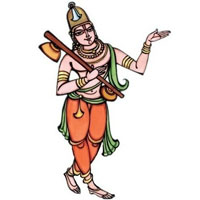 Recitals
Awaiting Contributions.
…
Awaiting Contributions.
[audio: audio-instrumental-file-name.mp3].
This Kriti was originally composed in Telugu. Other languages are for your convenience.
పల్లవి
మఱి విచారించఁబోతే మంచముకిందే నూయి
మెఱయఁగ హరిఁ గొల్చి మించరో ప్రజలు
చరణములు
1.యేల మాను దేహమెప్పటి తనగుణము
యేల మాను మనసెడలేనియాసల
ఱాలు దింటా మలిగం డ్లేఱఁగనేల హరి మన-
పాలఁ బెట్టుక కొలిచి బ్రతుకరో ప్రజలు
2.పొమ్మంటే నేల పోవు పూర్వకర్మములు
పొమ్మంటే నేల పోవు పొంచిన యింద్రియములు
కుమ్మరావమునఁ జెంబు కోరి వెదకనేల
పమ్మిని శ్రీపతిఁ గొల్చి బదుకరో ప్రజలు
3.భోగించకేల పోవుఁ బుట్టిన జన్మఫలము
లోఁగుచుఁ బిండికూరలోన నలుపెంచనేల
వేగిరమేఁటికి శ్రీవేంకటేశుమాయ లివి
బాగుగ నాతనిఁగొల్చి బదుకరో ప్రజలు
.
Pallavi
ma~ri vicAriMca@mbOtE maMcamukiMdE nUyi
me~raya@mga hari@m golci miMcarO prajalu
Charanams
1.yEla mAnu dEhameppaTi tanaguNamu
yEla mAnu manaseDalEniyAsala
~rAlu diMTA maligaM DlE~ra@mganEla hari mana-
pAla@m beTTuka kolici bratukarO prajalu
2.pommaMTE nEla pOvu pUrvakarmamulu
pommaMTE nEla pOvu poMcina yiMdriyamulu
kummarAvamuna@m jeMbu kOri vedakanEla
pammini SrIpati@m golci badukarO prajalu
3.BOgiMcakEla pOvu@m buTTina janmaPalamu
lO@mgucu@m biMDikUralOna nalupeMcanEla
vEgiramE@mTiki SrIvEMkaTESumAya livi
bAguga nAtani@mgolci badukarO prajalu
.

We will update this page , once we find comprehensive meaning. Feel free to contribute if you know.
.