Composer: Sri Tallapaka Annamacharya (Annamayya అన్నమయ్య) , May 9, 1408 – February 23, 1503 was born to Narayana Suri and Lakkamamba in Tallapaka, a village in current day Kadapa district of Andhra Pradesh. More….
Keerthana No. 262
Copper Sheet No. 75
Pallavi: Maruni Nagarikamda (మరుని నగరికండ)
Ragam: Sriragam
Language: Telugu (తెలుగు)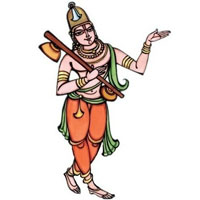 Recitals
Awaiting Contributions.
…
Awaiting Contributions.
[audio: audio-instrumental-file-name.mp3].
This Kriti was originally composed in Telugu. Other languages are for your convenience.
పల్లవి
మరుని నగరికండ మాయిల్లెఱఁగవా
విరుల తావులు వెల్లవిరిసేటి చోటు
చరణములు
1.మఱగు మూఁక చింతల మాయిల్లెఱఁగవా
గుఱుతైన బంగారులొండల నంది
మఱపుఁ దెలివి యిక్క మాయిల్లెఱగవా
వెఱవక మదనుఁడు వేఁటడేచోటు
2.మదనుని వేదసంత మాయిల్లెఱఁగవా
చెదరియు జెదరని చిమ్మఁ జీఁకటి
మదిలోన నీవుండేటి మాయిల్లెఱఁగవా
కొదలేక మమతలు కొలువుండేచోటు
3.మరులుమ్మెతల తోఁట మాయిల్లెఱఁగవా
తిరువేంకటగిరుదేవుఁడ నీవు
మరుముద్రల వాకిలి మాయిల్లె ఱగవా
నిరతము నీ సిరులు నించేతిచోటు
.
Pallavi
maruni nagarikamDa mAyille~ra@mgavA
virula tAvulu vellavirisETi cOTu
Charanams
1.ma~ragu mU@mka cimtala mAyille~ra@mgavA
gu~rutaina bamgArulomDala namdi
ma~rapu@m delivi yikka mAyille~ragavA
ve~ravaka madanu@mDu vE@mTaDEcOTu
2.madanuni vEdasamta mAyille~ra@mgavA
cedariyu jedarani cimma@m jI@mkaTi
madilOna nIvumDETi mAyille~ra@mgavA
kodalEka mamatalu koluvumDEcOTu
3.marulummetala tO@mTa mAyille~ra@mgavA
tiruvEmkaTagirudEvu@mDa nIvu
marumudrala vAkili mAyille ~ragavA
niratamu nI sirulu nimcEticOTu
.

We will update this page , once we find comprehensive meaning. Feel free to contribute if you know.
.