Composer: Sri Tallapaka Annamacharya (Annamayya అన్నమయ్య) , May 9, 1408 – February 23, 1503 was born to Narayana Suri and Lakkamamba in Tallapaka, a village in current day Kadapa district of Andhra Pradesh. More….
Keerthana No.8
Copper Sheet No. 102
Pallavi:Matulu davvagabOte (మాతులు దవ్వగబోతే)
Ragam: samantham
Language: Telugu (తెలుగు)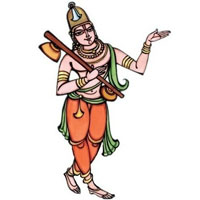 Recitals
Awaiting Contributions.
…
Awaiting Contributions.
[audio: audio-instrumental-file-name.mp3].
This Kriti was originally composed in Telugu. Other languages are for your convenience.
పల్లవి
మాతులు దవ్వగబోతే బేతాళములు వుట్టె
కాతాళపులోకులాల కంటిరా యీసుద్దులు
చరణములు
మీ ఱినపుత్రకా మేష్టి మించి లంకకు బై వచ్చె
ఆఱ్డి రామావతార మసురబాధ
తూఱి సీతపెండ్లి హరుదొడ్డ వింటిపండుగాయ
పాఱి పాఱి నమ్మ నేటువలెవచ్చు వీరిని
చూడ కేకయరాజ్యము చుప్పనాతిపాపమాయ
వేడుక మాయామృగము వేటాయను
వాడికే సుగ్రీవు మేలు వాలికి గుండాన వచ్చె
యీడుగానిరాచపుట్టు యెట్టు నమ్మవచ్చును
వుమ్మడి గోతులకూట ముదధికి గట్లు వచ్చె
తమ్మునిబుద్ధి రావణుతల్ వోయను
పమ్మి శ్రీవేంకటేశుని పట్టానకే యింతానాయ
యిమ్మల నిత్తిదేవర నెట్టు నమ్మవచ్చును
.
Pallavi
mAtulu davvagabOtE bEtALamulu vuTTe
kAtALapulOkulAla kamTirA yIsuddulu
Charanams
mI ~rinaputrakA mEshTi minci lankaku bai vacce
A~rDi rAmAvatAra masurabAdha
tU~ri sItapemDli harudoDDa vimTipanDugAya
pA~ri pA~ri namma nETuvalevaccu vIrini
cUDa kEkayarAjyamu cuppanAtipApamAya
vEDuka mAyAmRgamu vETAyanu
vADikE sugrIvu mElu vAliki gumDAna vacce
yIDugAnirAcapuTTu yeTTu nammavaccunu
vummaDi gOtulakUTa mudadHiki gaTlu vacce
tammunibuddhi rAvaNutal vOyanu
pammi SrIvEnkaTESuni paTTAnakE yimtAnAya
yimmala nittidEvara neTTu nammavaccunu
.

We will update this page , once we find comprehensive meaning. Feel free to contribute if you know.
.