Composer: Sri Tallapaka Annamacharya (Annamayya అన్నమయ్య) , May 9, 1408 – February 23, 1503 was born to Narayana Suri and Lakkamamba in Tallapaka, a village in current day Kadapa district of Andhra Pradesh. More….
Keerthana No. 566
Copper Sheet No. 298
Pallavi: Mayamohamu Manadidi (మాయామోహము మానదిది)
Ragam: Deva gandhari
Language: Telugu (తెలుగు)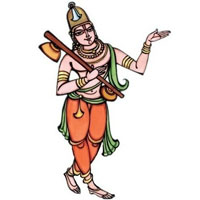 Recitals
Awaiting Contributions.
…
Awaiting Contributions.
[audio: audio-instrumental-file-name.mp3].
This Kriti was originally composed in Telugu. Other languages are for your convenience.
Pallavi
||మాయామోహము మానదిది
శ్రీ యచ్యుత నీచిత్తమే కలది ||
charanams
||యెంత వెలుగునకు నంతే చీకటి
యెంత సంఒఅదకు నంతాపద
అంతటానొఊశధ మపధ్యామును సరి
వింతే మిగిలెను వేసటేకలది ||
||చేసిన కూలికి జీతమునకు సరి
పూసిన కర్మభోగము సరి
వాసులజన్మము వడిమరణము సరి
ఆసల మిగిలిన దలపే కలది ||
||మొలచిన దేహము ముదియుటకును సరి
తలచిన దైవము తనలోను
యిలలో శ్రీవేంకటేశ నీ కరుణ
గలిగిన మాకెల్ల ఘనతేగలది ||
.
Pallavi
||mAyAmOhamu mAnadidi
SrI yachyuta nIchittamE kaladi ||
Charanams
||yeMta velugunaku naMtE chIkaTi
yeMta saMoadaku naMtApada
aMtaTAnoUshadha mapadhyAmunu sari
viMtE migilenu vEsaTEkaladi ||
||chEsina kUliki jItamunaku sari
pUsina karmabhOgamu sari
vAsulajanmamu vaDimaraNamu sari
Asala migilina dalapE kaladi ||
||molachina dEhamu mudiyuTakunu sari
talachina daivamu tanalOnu
yilalO SrIvEMkaTESa nI karuNa
galigina mAkella ghanatEgaladi ||
.

We will update this page , once we find comprehensive meaning. Feel free to contribute if you know.
.