Composer: Sri Tallapaka Annamacharya (Annamayya అన్నమయ్య) , May 9, 1408 – February 23, 1503 was born to Narayana Suri and Lakkamamba in Tallapaka, a village in current day Kadapa district of Andhra Pradesh. More….
Keerthana No. 78
Copper Sheet No. 113
Pallavi: Melu ledu Telu (మేలు లేదు తేలు)
Ragam: Deva gandhari
Language: Telugu (తెలుగు)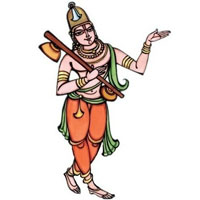 Recitals
Awaiting Contributions.
…
Awaiting Contributions.
[audio: audio-instrumental-file-name.mp3].
This Kriti was originally composed in Telugu. Other languages are for your convenience.
Pallavi
|| మేలు లేదు తేలు లేదు మించీ నిదే హరిమాయ | కాలమందే హరి గంటి మొకటే ||
charanams
|| సురలును జీవులే నసురలును జీవులే | ధర నిందు బ్రకృతిభేదమేకాని |
సురలకు స్వర్గ మసురలకు నరకము | పరగ నీరెంటిగతి పాపపుణ్యములే ||
|| పొలతులు జీవులే పురుషులు జీవులే | తలప భావభేదములేకాని |
బలిమి స్వతంత్రము బరతంత్ర మొకరికి | యెలమి నిందులో జెల్లే హీనాధికములే ||
|| రాజులును జీవులే రాసిబంట్లు జీవులే | వోజతో సంపద చెల్లే దొకటే వేరు |
సాజపుశ్రీవేంకటేశు శరణ మొక్కటే గతి | బాజు గర్మ మొండొకటి బంధమోక్షములు ||
.
Pallavi
||mElu lEdu tElu lEdu miMcI nidE harimAya | kAlamaMdE hari gaMTi mokaTE ||
Charanams
||suralunu jIvulE nasuralunu jIvulE | dhara niMdu brakRutiBEdamEkAni |
suralaku svarga masuralaku narakamu | paraga nIreMTigati pApapuNyamulE ||
||polatulu jIvulE puruShulu jIvulE | talapa BAvaBEdamulEkAni |
balimi svataMtramu barataMtra mokariki | yelami niMdulO jellE hInAdhikamulE ||
||rAjulunu jIvulE rAsibaMTlu jIvulE | vOjatO saMpada cellE dokaTE vEru |
sAjapuSrIvEMkaTESu SaraNa mokkaTE gati | bAju garma moMDokaTi baMdhamOkShamulu ||
.

We will update this page , once we find comprehensive meaning. Feel free to contribute if you know.
.