Composer: Sri Tallapaka Annamacharya (Annamayya అన్నమయ్య) , May 9, 1408 – February 23, 1503 was born to Narayana Suri and Lakkamamba in Tallapaka, a village in current day Kadapa district of Andhra Pradesh. More….
Keerthana No. 355
Copper Sheet No. 962
Pallavi: Merugu vantidi (మెరుగు వంటిది)
Ragam: salangam
Language: Telugu (తెలుగు)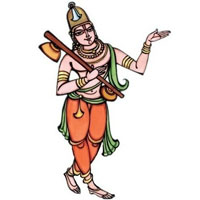 Recitals
Awaiting Contributions.
…
Awaiting Contributions.
[audio: audio-instrumental-file-name.mp3].
This Kriti was originally composed in Telugu. Other languages are for your convenience.
Pallavi
|| మెరుగు వంటిది యలమేలుమంగ | అరిమురి నవ్వీని అలమేలుమంగ ||
Charanams
|| పలుచని యెలుగున బాడీ నీ మీది పాట | మెలుపు గూరిమి నలమేలుమంగ |
చెలులతో నీ సుద్ది చెప్పిచెప్పి కరగీని | అలయుచు సొలయుచు నలమేలుమంగ ||
|| ఈడుగా నీ రాకకు నెదురెదురుచూచీ | మేడ మీద నుండి యలమేలుమంగ |
వాడు మోముతో నీపై వలపు చల్లి చల్లి | ఆడీ నాట్యము సారె నలమేలుమంగ ||
|| పేరుకొని పిలిచీని ప్రియములు చెప్పి చెప్పి | మేరమీర నిన్ను నలమేలుమంగ |
యీరీతి శ్రీవేంకటేశ నిన్ను గూడె నేడు | ఆరితేరి నన్నిటాను అలమేలుమంగ ||
.
Pallavi
|| merugu vaMTidi yalamElumaMga | arimuri navvIni alamElumaMga ||
Charanams
|| palucani yeluguna bADI nI mIdi pATa | melupu gUrimi nalamElumaMga |
celulatO nI suddi ceppiceppi karagIni | alayucu solayucu nalamElumaMga ||
|| IDugA nI rAkaku neduredurucUcI | mEDa mIda nuMDi yalamElumaMga |
vADu mOmutO nIpai valapu calli calli | ADI nATyamu sAre nalamElumaMga ||
|| pErukoni pilicIni priyamulu ceppi ceppi | mEramIra ninnu nalamElumaMga |
yIrIti SrIvEMkaTESa ninnu gUDe nEDu | AritEri nanniTAnu alamElumaMga ||
.

We will update this page , once we find comprehensive meaning. Feel free to contribute if you know.
.