Composer: Sri Tallapaka Annamacharya (Annamayya అన్నమయ్య) , May 9, 1408 – February 23, 1503 was born to Narayana Suri and Lakkamamba in Tallapaka, a village in current day Kadapa district of Andhra Pradesh. More….
Keerthana No. 271
Copper Sheet No. 77
Pallavi: Mopula Cigurula (మోపుల చిగురుల)
Ragam: Varali
Language: Telugu (తెలుగు)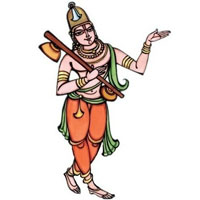 Recitals
Awaiting Contributions.
…
Awaiting Contributions.
[audio: audio-instrumental-file-name.mp3].
This Kriti was originally composed in Telugu. Other languages are for your convenience.
PAllavi
||మోపుల చిగురుల చిమ్ములవేదము | ఆవుల మందలలోని ఆవేదము ||
charanams
|| మంచముపై చదివేది మరవకుమీ | కొంచెపు లేబలుకుల కొనవేదము |
పించపు శిరసుతోడ బిన్ననాడే చదివిన | తుంచి తుంచిన మాటల తొలివేదము ||
|| చల్లలమ్మే గొల్లెతల చక్కని జంకెనలకు | గొల్లపల్లెలోన దొరకొన్న వేదము |
తల్లి బిడ్డ లనక యందరి నొక్క వావిగా | పిల్లగ్రోవి నేరిపిన పెనువేదము ||
|| పంకజభవాదులు బడిబడి జదివించే | లంకెలు చెలగిన మెలపువేదము |
వేంకటనగము మీద వెలయు నిందిరగూడి | కొంకొక చదివిన చొక్కుల వేదము ||
.
Pallavi
||mOpula cigurula cimmulavEdamu | Avula maMdalalOni AvEdamu ||
Charanams
||maMcamupai cadivEdi maravakumI | koMcepu lEbalukula konavEdamu |
piMcapu SirasutODa binnanADE cadivina | tuMci tuMcina mATala tolivEdamu ||
||callalammE golletala cakkani jaMkenalaku | gollapallelOna dorakonna vEdamu |
talli biDDa lanaka yaMdari nokka vAvigA | pillagrOvi nEripina penuvEdamu ||
||paMkajaBavAdulu baDibaDi jadiviMcE | laMkelu celagina melapuvEdamu |
vEMkaTanagamu mIda velayu niMdiragUDi | koMkoka cadivina cokkula vEdamu ||
.

We will update this page , once we find comprehensive meaning. Feel free to contribute if you know.
.