Composer: Sri Tallapaka Annamacharya (Annamayya అన్నమయ్య) , May 9, 1408 – February 23, 1503 was born to Narayana Suri and Lakkamamba in Tallapaka, a village in current day Kadapa district of Andhra Pradesh. More….
Keerthana No. 157; Volume No. 6
Copper Sheet No. 38
Pallavi: Naalam vaa tava (నాలం వా తవ)
Ragam: reeti goula
Language: Telugu (తెలుగు)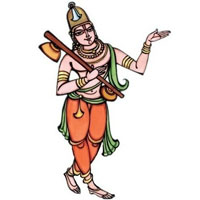 Recitals
Awaiting Contributions.
…
Awaiting Contributions.
[audio: audio-instrumental-file-name.mp3].
This Kriti was originally composed in Telugu. Other languages are for your convenience.
Pallavi
నాలం వా తవ నయవచనం
చెలం త్యజతె చెటి భవామి
Charanams
1.చలచలమమనం సస్కటనె కిం
కులిష హృదయ బహుగుణ విభవ
పులకిత తనుసంభృత వెదనయా
మలినం వహామి మదం త్యజామి || నాలం ||
2.భజభజ తె ప్రియభామాం సతతం
సుజనస్త్వం నిజ సుఖనిలయ
భుజరెఖా రతి భోగ భవసి కిం
విజయీభవ మద్విధిం వదామి || నాలం ||
3.నయనయ మామనునయనవిదంతె
ప్రియ కాంతాయాం ప్రేమభవం
భయహర వెంకటపతె త్వం
మద్విలొ భవసి షోభిత భవామి || నాలం ||
.
Pallavi
nAlaM vA tava nayavachanaM
chelaM tyajate cheTi bhavAmi
Charanams
1.chalachalamamanaM saskaTane kiM
kulisha hRdaya bahuguNa vibhava
pulakita tanusambhRta vedanayA
malinam vahAmi madaM tyajAmi || nAlaM ||
2.bhajabhaja te priyabhAmAM satataM
sujanastvaM nija sukhanilaya
bhujarekhA rati bhOga bhavasi kiM
vijayIbhava madvidhiM vadAmi || nAlaM ||
3.nayanaya mAmanunayanavidaMte
priya kAntAyAm prEmabhavaM
bhayahara veMkaTapate tvam
.

We will update this page , once we find comprehensive meaning. Feel free to contribute if you know.
.