Composer: Sri Tallapaka Annamacharya (Annamayya అన్నమయ్య) , May 9, 1408 – February 23, 1503 was born to Narayana Suri and Lakkamamba in Tallapaka, a village in current day Kadapa district of Andhra Pradesh. More….
Keerthana No. 282
Copper Sheet No. 249
Pallavi: Namo namo daanava (నమో నమో దానవ)
Ragam: Salanga nata
Language: Telugu (తెలుగు)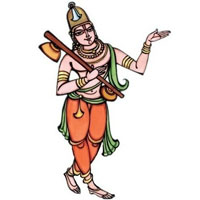 Recitals
Namo namo daanava | నమో నమో దానవ
Album: Private | Voice: G. Bala Krishna Prasad

Awaiting Contributions.

This Kriti was originally composed in Telugu. Other languages are for your convenience.
Pallavi
|| నమో నమో దానవవినాశక చక్రమా | సమర విజయమైన సర్వేశు చక్రమా ||
Charanams
|| అట్టె పదారు భుజాల నమరిన చక్రమా | పట్టిన ఆయుధముల బలు చక్రమా |
నెట్టన మూడుగన్నుల నిలచిన చక్రమా | రట్టుగా మన్నించవే మొరయుచు చక్రమా ||
|| అరయ నారుగోణాల నమరిన చక్రమా | ధారలు వేయిటి తోడి తగు చక్రమా |
ఆరక మీదికి వెళ్ళే అగ్ని చక్రమా | గారవాన నీదాసుల గావవే చక్రమా ||
|| రవిచంద్రకోటి తేజరాసియైన చక్రమా | దివిజ సేవితమైన దివ్య చక్రమా |
తవిలి శ్రీ వేంకటేశు దక్షిణకర చక్రమా | యీవల నీదాసులము యేలుకోవే చక్రమా ||
.
Pallavi
|| namO namO dAnavavinASaka cakramA | samara vijayamaina sarvESu cakramA ||
Charanams
|| aTTe padAru BujAla namarina cakramA | paTTina Ayudhamula balu cakramA |
neTTana mUDugannula nilacina cakramA | raTTugA manniMcavE morayucu cakramA ||
|| araya nArugONAla namarina cakramA | dhAralu vEyiTi tODi tagu cakramA |
Araka mIdiki veLLE agni cakramA | gAravAna nIdAsula gAvavE cakramA ||
|| ravicaMdrakOTi tEjarAsiyaina cakramA | divija sEvitamaina divya cakramA |
tavili SrI vEMkaTESu dakShiNakara cakramA | yIvala nIdAsulamu yElukOvE cakramA ||
.

We will update this page , once we find comprehensive meaning. Feel free to contribute if you know.
.