Composer: Sri Tallapaka Annamacharya (Annamayya అన్నమయ్య) , May 9, 1408 – February 23, 1503 was born to Narayana Suri and Lakkamamba in Tallapaka, a village in current day Kadapa district of Andhra Pradesh. More….

Keerthana No. 301 ; Volume 4
Copper Sheet No. 351
Pallavi: Namo Namo Dasarathanandana (నమో నమో దశరథనందన)
Ragam: Malavasri
Language: Telugu (తెలుగు)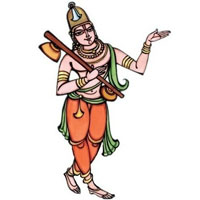 This Kriti was originally composed in Telugu. Other languages are for your convenience.
Pallavi
|| namO namO daSaratha naMdana mamu rakShiMcu | kamanIya SaraNAgata vajrapaMjara ||
Charanams
|| kOdaMDa dIkShA garuDa rAmacaMdra | Adityakula divyAstra vEdi |
sOdiMcu mArIcuni talaguMDugaMDa | Adi nArAyaNa asura BaMjana ||
|| KaradUShaNa SiraHKaMDana pratApa | Sarathi baMdhana viBIShaNa varada |
araya viSvAmitra yAga saMrakShaka | dharalO rAvaNa darpApaharaNa ||
|| polupoMda nayOdhyA puravarA dhISvara | gelupoMdina jAnakI ramaNa |
alaGu sugrIva aMgadAdi kapi sEvita | salalita SrI vEMkaTaSaila nivAsA ||


We will update this page , once we find comprehensive meaning. Feel free to contribute if you know.