Composer: Sri Tallapaka Annamacharya (Annamayya అన్నమయ్య) , May 9, 1408 – February 23, 1503 was born to Narayana Suri and Lakkamamba in Tallapaka, a village in current day Kadapa district of Andhra Pradesh. More….
Keerthana No. 471 ; Volume 4
Copper Sheet No. 381
Pallavi: Namo Namo Ragukulanayaka (నమో నమో రఘుకులనాయక )
Ragam: Bouli
Language: Telugu (తెలుగు)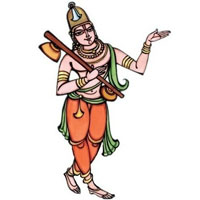 Recitals
Namo Namo Ragukula | నమో నమో రఘుకుల
Album: Private | Voice: Mambalam Sisters
Namo Namo Ragukula | నమో నమో రఘుకుల
Album: Private | Voice: M.S. Subbulakshmi
This Kriti was originally composed in Telugu. Other languages are for your convenience.
Pallavi
|| namO namO raGukula nAyaka divijavaMdya | namO namO SaMkara nagajAnuta ||
Charanams
|| vihita dharma pAlaka vIra daSaratha rAma | gahana vAsini tATaka mardana- |
ahalyA SApa vimOcana asurakula BaMjana | sahaja viSvAmitra savana rakShaka ||
|| hara kOdaNDa hara sItAMganA vallaBa | Kara dUShaNAri vAli garvApaha |
dharaNi danujAdi danujula pAlaka | Saradhi raMga kRutya saumitri samEta ||
|| biruda rAvaNa SirO BEdaka viBIShaNa varada | sAkEta puravAsa rAGava nirupama |
SrI vEMkaTa nilaya-nija sakala | puravara vihAra, puMDarIkAkSha ||


We will update this page , once we find comprehensive meaning. Feel free to contribute if you know.