Composer: Sri Tallapaka Annamacharya (Annamayya అన్నమయ్య) , May 9, 1408 – February 23, 1503 was born to Narayana Suri and Lakkamamba in Tallapaka, a village in current day Kadapa district of Andhra Pradesh. More….
Keerthana No. 469 ; Volume No. 2
Copper Sheet No. 192
Pallavi: Nanabaktu Livi (నానాభక్తు లివి)
Ragam: Salangam
Language: Telugu (తెలుగు)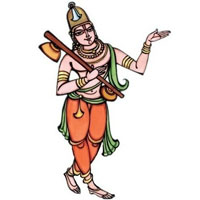 Recitals

Awaiting Contributions.

Awaiting Contributions.
This Kriti was originally composed in Telugu. Other languages are for your convenience.
Pallavi
|| nAnABaktu livi narulamArgamulu | yEnepAnainA nAtaDiyyakonu Bakti ||
Charanams
|| harikigA vAdiMcu Tadi unmAdaBakti | parula goluvakuMTE pativratABakti |
arasi yAtma ganuTadiyE vij~jAnaBakti | aramaraci cokkuTE AnaMdaBakti ||
|| atisAhasAlapUja adi rAkShasaBakti | atanidAsulasEvE adiyE turIyaBakti |
kShiti nokapani gOri cEsuTE tAmasaBakti | AtaDE gatani vuMDuTadi vairAgyaBakti ||
|| aTTe svataMtruDauTE adi rAjasaBakti | neTTana SaraNanuTE nirmalaBakti |
gaTTigA SrIvEMkaTESukaiMkaryamE sEsi | taTTumuTTulEnidE taga nijaBakti ||
.

We will update this page , once we find comprehensive meaning. Feel free to contribute if you know.
.