Composer: Muttukumaraswamy (முத்துகுமாரச்வாமி) popularly known as Muthuswamy Dikshithar (முத்துஸ்வாமி தீக்ஷிதர் – ముత్తుస్వామీ డిక్షితర్), (March 24, 1775 – October 21, 1835) was born in Tiruvarur (of Thanjavur district of Tamil Nadu) to a Tamil Iyer Brahmin couple Ramaswami Dikshitar and Subbamma, as the eldest son. He also had two younger brothers Baluswami, Chinnaswami and a sister Balambal.Chidambaranatha Yogi was his guru. More…
Raagam: Saraavati
Taalam: Yamuna Kalyani
Diety: Sri Krishna Krithis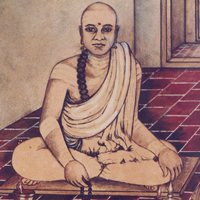 .
Recitals
Album: Unknown | Voice: M.Santhanam
Album: Unknown | Voice: T.M. Krishna

Awaiting Contributions.

We believe this kriti was originally composed in sanskrit. Other languages are for your convenience.
పల్లవి
నంద గోపాల ముకుంద
గోకుల నందన యమునా తీర విహార
అనుపల్లవి
మందర గిరి ధర మామవ మాధవ
మురళీ ధర మధు సూదన హరే
చరణము
మంద హాస వదన మంజుళ చరణ
అరవింద లోచన ఆశ్రిత రక్షణ
పీతాంబర ధర పన్నగ శయన
కలి కల్మష హరణ కరుణా పూరణ
(మధ్యమ కాల సాహిత్యమ్)
వందిత ముని బృంద గురు గుహానంద
వైకుంఠ స్థితానంద కంద
గోవర్ధనోద్ధార గోప స్త్రీ జార గోవింద
.
பல்லவி
நந்த3 கோ3பால முகுந்த3
கோ3குல நந்த3ன யமுனா தீர விஹார
அனுபல்லவி
மந்த3ர கி3ரி த4ர மாமவ மாத4வ
முரளீ த4ர மது4 ஸூத3ன ஹரே
சரணம்
மந்த3 ஹாஸ வத3ன மஞ்ஜுள சரண
அரவிந்த3 லோசன ஆஸ்1ரித ரக்ஷண
பீதாம்ப3ர த4ர பன்னக3 ஸ1யன
கலி கல்மஷ ஹரண கருணா பூரண
(மத்4யம கால ஸாஹித்யம்)
வந்தி3த முனி ப்3ரு2ந்த3 கு3ரு கு3ஹானந்த3
வைகுண்ட2 ஸ்தி2தானந்த3 கந்த3
கோ3வர்த4னோத்3தா4ர கோ3ப ஸ்த்ரீ ஜார கோ3விந்த3
.
ಪಲ್ಲವಿ
ನಂದ ಗೋಪಾಲ ಮುಕುಂದ
ಗೋಕುಲ ನಂದನ ಯಮುನಾ ತೀರ ವಿಹಾರ
ಅನುಪಲ್ಲವಿ
ಮಂದರ ಗಿರಿ ಧರ ಮಾಮವ ಮಾಧವ
ಮುರಳೀ ಧರ ಮಧು ಸೂದನ ಹರೇ
ಚರಣಮ್
ಮಂದ ಹಾಸ ವದನ ಮಂಜುಳ ಚರಣ
ಅರವಿಂದ ಲೋಚನ ಆಶ್ರಿತ ರಕ್ಷಣ
ಪೀತಾಂಬರ ಧರ ಪನ್ನಗ ಶಯನ
ಕಲಿ ಕಲ್ಮಷ ಹರಣ ಕರುಣಾ ಪೂರಣ
(ಮಧ್ಯಮ ಕಾಲ ಸಾಹಿತ್ಯಮ್)
ವಂದಿತ ಮುನಿ ಬೃಂದ ಗುರು ಗುಹಾನಂದ
ವೈಕುಂಠ ಸ್ಥಿತಾನಂದ ಕಂದ
ಗೋವರ್ಧನೋದ್ಧಾರ ಗೋಪ ಸ್ತ್ರೀ ಜಾರ ಗೋವಿಂದ
.
पल्लवि
नन्द गोपाल मुकुन्द
गोकुल नन्दन यमुना तीर विहार
अनुपल्लवि
मन्दर गिरि धर मामव माधव
मुरळी धर मधु सूदन हरे
चरणम्
मन्द हास वदन मञ्जुळ चरण
अरविन्द लोचन आश्रित रक्षण
पीताम्बर धर पन्नग शयन
कलि कल्मष हरण करुणा पूरण
(मध्यम काल साहित्यम्)
वन्दित मुनि बृन्द गुरु गुहानन्द
वैकुण्ठ स्थितानन्द कन्द
गोवर्धनोद्धार गोप स्त्री जार गोविन्द
.
pallavi
nanda gOpAla mukunda
gOkula nandana yamunA tIra vihAra
anupallavi
mandara giri dhara mAmava mAdhava
muraLI dhara madhu sUdana harE
caraNam
manda hAsa vadana manjuLa caraNa
aravinda lOcana ASrita rakshaNa
pItAmbara dhara pannaga Sayana
kali kalmasha haraNa karuNA pUraNa
(madhyama kAla sAhityam)
vandita muni bRnda guru guhAnanda
vaikuNTha sthitAnanda kanda
gOvardhanOddhAra gOpa strI jAra gOvinda
.
പല്ലവി
നന്ദ ഗോപാല മുകുന്ദ
ഗോകുല നന്ദന യമുനാ തീര വിഹാര
അനുപല്ലവി
മന്ദര ഗിരി ധര മാമവ മാധവ
മുരളീ ധര മധു സൂദന ഹരേ
ചരണമ്
മന്ദ ഹാസ വദന മഞ്ജുള ചരണ
അരവിന്ദ ലോചന ആശ്രിത രക്ഷണ
പീതാമ്ബര ധര പന്നഗ ശയന
കലി കല്മഷ ഹരണ കരുണാ പൂരണ
(മധ്യമ കാല സാഹിത്യമ്)
വന്ദിത മുനി ബൃന്ദ ഗുരു ഗുഹാനന്ദ
വൈകുണ്ഠ സ്ഥിതാനന്ദ കന്ദ
ഗോവര്ധനോദ്ധാര ഗോപ സ്ത്രീ ജാര ഗോവിന്ദ
.
Pallavi
NandagopAla.Mukunda.The one in Gokula.The one who sported on the banks of the Yamuna.
Anupallavi
Protect me O Madhava.The one who carried the Mandara mountain.Tha slayer of Madhu, Hari
Charanam
The one with smiling countenance.The lotus-feet, The lotus –eyed.The one who protects devotees. The one who wears the yellow silk.The one who lies recumbent on a serpent.The one who removes the evils of Kali. The one full of mercy.The one worshipped by groups of sages.The one who pleases guruguha. The blissful one who dwells in Vaikuntha.The one who carried the Govardhana hillock.The one dear to the cow-herdesses. Govinda.
.