Composer: Sri Tallapaka Annamacharya (Annamayya అన్నమయ్య) , May 9, 1408 – February 23, 1503 was born to Narayana Suri and Lakkamamba in Tallapaka, a village in current day Kadapa district of Andhra Pradesh. More….
Keerthana No. 187 ; Volume 2
Copper Sheet No. -142
Pallavi: Nanujoochi Hari (ననుజూచి హరి)
Ragam: Bhairavi
Language: Telugu (తెలుగు)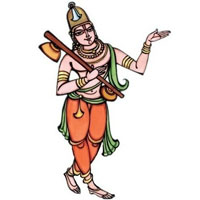 Recitals

Awaiting Contributions.

Awaiting Contributions.
This Kriti was originally composed in Telugu. Other languages are for your convenience.
Pallavi
| nanujUci hari nIvu navvakuMDEvA | panimAleMta bayalupAk
Charanams
| manasuku gOcaramA mATalaku gOcaramA | kanugona vasamA nIGanarUpamu |
ninu vedukucunnADa nIvekkaDa nE nekkaDa | januDa niMte yeMta sAhasamu nAdi ||
|| vunnacO TerxugudunA vOyI aMTE balikEvA | yenni teliyadaramA yiTTi nImAya |
anniTA nIkoluvusEya gaDagucunnavADa | yennaTipoMdu nIvu nAkeMta diTTatanamO ||
|| vAkili gAnavaccunA vaMciMci coravaccunA | rAkapOka kabbunA paramapadamu |
SrIkAMtuDa pratyakShamai SrIvEMkaTAdri yide | kaikoMTi nIkRupa neMta gaTTuvAyatanamO ||
.

We will update this page , once we find comprehensive meaning. Feel free to contribute if you know.
.