Composer: Sri Tallapaka Annamacharya (Annamayya అన్నమయ్య) , May 9, 1408 – February 23, 1503 was born to Narayana Suri and Lakkamamba in Tallapaka, a village in current day Kadapa district of Andhra Pradesh. More….
Keerthana No. 108
Copper Sheet No. 18
Pallavi: Napaligana daivamavu(నాపాలిఘన దైవమవు నీవే నన్ను)
Ragam: Gijjari
Language: Telugu (తెలుగు)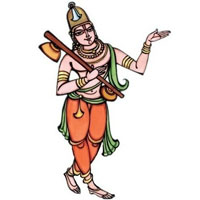 Recitals
Awaiting Contributions.
…
Awaiting Contributions.
[audio: audio-instrumental-file-name.mp3].
This Kriti was originally composed in Telugu. Other languages are for your convenience.
Pallavi
|| నాపాలిఘన దైవమవు నీవే నన్ను | నీపాల నిడుకొంటి నీవే నీవే ||
Charanams
|| ఒలిసి నన్నేలే దేవుడవు, యెందు | దొలగని నిజబంధుడవు నీవే |
పలు సుఖమిచ్చే సంపదవు నీవే, యిట్టే | వెలయ నిన్నియు నీవే నీవే ||
|| పొదిగి పాయని యాప్తుడవు నీవే, నాకు | నదన దోడగు దేహమవు నీవే |
మదమువాపెడి నామతియు నీవే, నాకు | వెదక నన్నియును నీవే నీవే ||
|| ఇంకా లోకములకు నెప్పుడు నీవే, యీ- | పంకజభవాది దేవపతివి నీవే |
అంకిలి వాపగ నంతకు నీవే, తిరు- | వేంకటేశ్వరుడవు నీవే నీవే ||
.
Pallavi
nApAliGana daivamavu nIvE nannu | nIpAla niDukoMTi nIvE nIvE ||
Charanams
|| olisi nannElE dEvuDavu, yeMdu | dolagani nijabaMdhuDavu nIvE |
palu suKamiccE saMpadavu nIvE, yiTTE | velaya ninniyu nIvE nIvE ||
|| podigi pAyani yAptuDavu nIvE, nAku | nadana dODagu dEhamavu nIvE |
madamuvApeDi nAmatiyu nIvE, nAku | vedaka nanniyunu nIvE nIvE ||
|| iMkA lOkamulaku neppuDu nIvE, yI- | paMkajaBavAdi dEvapativi nIvE |
aMkili vApaga naMtaku nIvE, tiru- | vEMkaTESvaruDavu nIvE nIvE ||
.

We will update this page , once we find comprehensive meaning. Feel free to contribute if you know.
.