Composer: Sri Tallapaka Annamacharya (Annamayya అన్నమయ్య) , May 9, 1408 – February 23, 1503 was born to Narayana Suri and Lakkamamba in Tallapaka, a village in current day Kadapa district of Andhra Pradesh. More….
Keerthana No. 317 ; Volume 4
Copper Sheet No. 354
Pallavi: Natanala Bramayaku (నటనల భ్రమయకు)
Ragam: Lalitha
Language: Telugu (తెలుగు)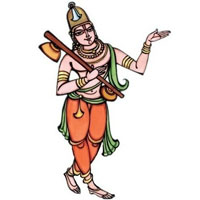 Recitals
Natanala Bramayaku | నటనల భ్రమయకు
Album: Private | Voice: Ashabhonsle
Natanala Bramayaku | నటనల భ్రమయకు
Album: Private | Voice: M.S. Subbulakshmi

Awaiting Contributions.

This Kriti was originally composed in Telugu. Other languages are for your convenience.
Pallavi
|| naTanala Bramayaku nA manasA |
GaTiyiMcu hariyE kalavADu ||
Charanams
|| muMcina jagamidi mOhinI gajamu |
poMcina yAsa puTTiMcEdi |
vaMcanala nijamuvalenE vuMDunu |
maMculu mAyale marunADu ||
|| sari saMsAramu saMtalakUTami |
soridi bajAramu cUpEdi |
garima neppuDu galakala manucuMDunu |
marulagu vidhamE mApaTiki ||
|| kaMduva dEhamugAni mudiyadidi |
aMdina rUpa mADEdidi |
yeMdunu SrI vEMkaTESvaruMDunu |
DiMdu paDaganide teramarugu ||


We will update this page , once we find comprehensive meaning. Feel free to contribute if you know.