Composer: Sri Tallapaka Annamacharya (Annamayya అన్నమయ్య) , May 9, 1408 – February 23, 1503 was born to Narayana Suri and Lakkamamba in Tallapaka, a village in current day Kadapa district of Andhra Pradesh. More….
Keerthana No. 484 ; Volume No:2
Copper Sheet No. 194
Pallavi: Navalla Ni Kemunnadi (నావల్ల నీ కేమున్నది)
Ragam: Sriragam
Language: Telugu (తెలుగు)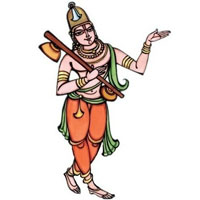 Recitals

Awaiting Contributions.

Awaiting Contributions.
This Kriti was originally composed in Telugu. Other languages are for your convenience.
Pallavi
|| nAvalla nI kEmunnadi nArAyaNa nIvu nannu | kAviMci rakShiMcEvupakAra miMtEkAka ||
Charanams
|| sommu dinabuTTinaTTisOmaribaM TElikaku | immula saMduku brati yEmisEsIni |
cimmucu nAtaDu nEmiMcinapanivATalalO | vummaDi jEsETivaTTivUDigAlEkAka ||
|| AsapaDi vacinaTTiatithi balurAjuku | rAsisEsi yEmiccina ratikekkIni |
bEsabellitanamuna priyAna niccakamADi | mUsi dainyapujEtulamokku liMtEkAka ||
|| SaraNAgatuDa nIkeccaTa SrIvEMkaTESuDa | doranai yEmiTa saridUgagalanu |
dharalOna nIvu dayadalaci nannElukOgA | paragu nImarxaguna badukudugAka ||
.

We will update this page , once we find comprehensive meaning. Feel free to contribute if you know.
.