Composer: Sri Tallapaka Annamacharya (Annamayya అన్నమయ్య) , May 9, 1408 – February 23, 1503 was born to Narayana Suri and Lakkamamba in Tallapaka, a village in current day Kadapa district of Andhra Pradesh. More….
Keerthana No. 24
Copper Sheet No. 204
Pallavi: Navanitachora Namo Namo (నవనీతచోర నమో నమో)
Ragam: Bouli
Language: Telugu (తెలుగు)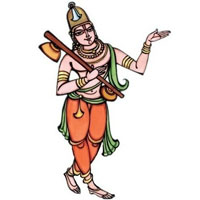 Recitals
Awaiting Contributions.
…
Awaiting Contributions.
[audio: audio-instrumental-file-name.mp3].
This Kriti was originally composed in Telugu. Other languages are for your convenience.
Pallavi
నవనీతచోర నమో నమో
నవమహిమార్ణవ నమో నమో
Charanams
1.హరి నారాయణ కేశవాచ్యుత శ్రీకృష్ణ
నరసింహ వామన నమో నమో
మురహర పద్మ నాభ ముకుంద గోవింద
నరనారాయణరూప నమో నమో.
2.నిగమగోచర విష్ణు నీరజాక్ష వాసుదేవ
నగధర నందగోప నమో నమో
త్రిగుణాతీత దేవ త్రివిక్రమ ద్వారక
నగరాధినాయక నమో నమో.
3.వైకుంఠ రుక్మిణీవల్లభ చక్రధర
నాకేశవందిత నమో నమో
శ్రీకరగుణనిధి శ్రీ వేంకటేశ్వర
నాకజనననుత నమో నమో.
.
Pallavi
Navaneetachora namo namo
Navamahimaarnava namo namo
Charanams
1.Hari naaraayana kaesavaachyuta sreekrshna
Narasimha vaamana namo namo
Murahara padma naabha mukumda govimda
Naranaaraayanaroopa namo namo.
2.Nigamagochara vishnu neerajaaksha vaasudaeva
Nagadhara namdagopa namo namo
Trigunaateeta daeva trivikrama dvaaraka
Nagaraadhinaayaka namo namo.
3.Vaikumtha rukmineevallabha chakradhara
Naakaesavamdita namo namo
Sreekaragunanidhi Sree vaemkataesvara
Naakajanananuta namo namo.
.

We will update this page , once we find comprehensive meaning. Feel free to contribute if you know.
.