Composer: Sri Tallapaka Annamacharya (Annamayya అన్నమయ్య), May 9, 1408 – February 23, 1503 was born to Narayana Suri and Lakkamamba in Tallapaka, a village in current day Kadapa district of Andhra Pradesh. More….
Keerthana No. 575 ; Volume No. 3
Copper Sheet No. 299
Pallavi: Nee Vetu Dalachina (నీ వెటు దలచిన)
Ragam: Lalitha
Language: Telugu (తెలుగు)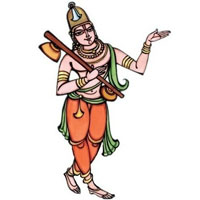 Recitals

Awaiting Contributions.

Awaiting Contributions.
This Kriti was originally composed in Telugu. Other languages are for your convenience.
Pallavi
|| nI veTu dalacina niKilamu naTTau | yEvala svataMtramiMtA nIdi ||
Charanams
|| yETipurAkRuta mekkaDikarmamu | dATaka hari nIdaya galitE |
nITuna nanniyu nIkalpitamulu | pATiMci nIvE pApagalEvA ||
|| yekkaDijanmamu lekkaDimaraNamu- | lokkaDave nIvuvoddaMTE |
yekkuva niMdari nEleTivADavu | yikkaDa goliciti mitaramu lElA ||
|| yEdi pApamu yEdi puNyamu | pOdiga nIvE pommaMTE |
cEdO DiMduku SrIvEMkaTESvara | Adesa ninu SaraNaMTimi goMta ||


We will update this page , once we find comprehensive meaning. Feel free to contribute if you know.