Composer: Sri Tallapaka Annamacharya (Annamayya అన్నమయ్య) , May 9, 1408 – February 23, 1503 was born to Narayana Suri and Lakkamamba in Tallapaka, a village in current day Kadapa district of Andhra Pradesh. More….
Keerthana No. 285
Copper Sheet No. 149
Pallavi: Nee vibudu vaccu (నీ విభుడు వచ్చు)
Ragam: Samantham
Language: Telugu (తెలుగు)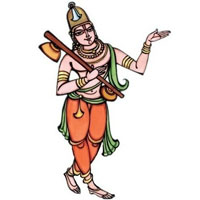 Recitals
Awaiting Contributions.
…
Awaiting Contributions.
[audio: audio-instrumental-file-name.mp3].
This Kriti was originally composed in Telugu. Other languages are for your convenience.
Pallavi
|| నీ విభుడు వచ్చు దాక నిచ్చలాన నుండ వే | వేవేలకును రేయి వేగించవేమే ||
Charanams
|| పూయకు కస్తూరి మేన బొద్దుగూకె జీకటంటా | నోయమ్మ చందురుడుదయించెను |
చాయల వెన్నెలదాకి చల్లజంపు యెండలంటా | ఆ యెడ నీవు వేగగ నది చూడలేమే ||
|| గందము పుయ్యకువే కలికి నీ కుచములే | చందనపు గొండలంటా జల్లీగాలి |
అందులో పూవు తావిదాకి అమ్ము మొనలంటెనంటా | మందమై మేను మరువగ మందులు దేలేమే ||
|| వద్దేలే కుంకుమలు వసంతపు జిగురంటా | నద్దితే గోవిల భూతమని లోగేవు |
నిద్దపు శ్రీ వేంకటాద్రి నిలయుడిట్టె కూడె | యిద్దరి మీ వలపులు యింకనెంచలేమే ||
.
Pallavi
|| nI viBuDu vaccu dAka niccalAna nuMDa vE | vEvElakunu rEyi vEgiMcavEmE ||
Charanams
|| pUyaku kastUri mEna boddugUke jIkaTaMTA | nOyamma caMduruDudayiMcenu |
cAyala venneladAki callajaMpu yeMDalaMTA | A yeDa nIvu vEgaga nadi cUDalEmE ||
|| gaMdamu puyyakuvE kaliki nI kucamulE | caMdanapu goMDalaMTA jallIgAli |
aMdulO pUvu tAvidAki ammu monalaMTenaMTA | maMdamai mEnu maruvaga maMdulu dElEmE ||
|| vaddElE kuMkumalu vasaMtapu jiguraMTA | nadditE gOvila BUtamani lOgEvu |
niddapu SrI vEMkaTAdri nilayuDiTTe kUDe | yiddari mI valapulu yiMkaneMcalEmE ||
.

We will update this page , once we find comprehensive meaning. Feel free to contribute if you know.
.