Composer: Sri Tallapaka Annamacharya (Annamayya అన్నమయ్య), May 9, 1408 – February 23, 1503 was born to Narayana Suri and Lakkamamba in Tallapaka, a village in current day Kadapa district of Andhra Pradesh. More….
Keerthana No. 66 ; Volume No. 6
Copper Sheet No. 52
Pallavi: Needala Chupulu (నీడల చూపులు)
Ragam: Sankaraabharanam
Language: Telugu (తెలుగు)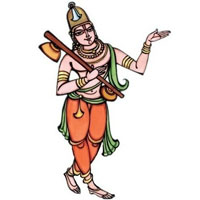 Recitals
Needala Chupulu | నీడల చూపులు
Album: Private | Voice: Vijaya

Awaiting Contributions.

This Kriti was originally composed in Telugu. Other languages are for your convenience.
Pallavi
|| nIDala cUpulu nIkElE yI- | vADaka vADeDi vaDa nIkEle ||
Charanams
|| niluvula naTanalu nIkElE yI | nilugula naDapulu nIkElE |
nelavula karagulu nIkElE yI | kulikeTi nunusiggulu nIkElE ||
|| nerxula cedurulivi nIkElE yI | nerxavagu cadurulu nIkElE |
nerxatanapu sarulu nIkElE yide | cerxaguna mUsedu celi nIkElE ||
|| nikkapu bOkulu nIkElE yide | nikkalagaMTivi nIkElE |
nikkiti vorapula nIkElE yide | dakke vEMkaTOttamuDu nIkElE ||


We will update this page , once we find comprehensive meaning. Feel free to contribute if you know.