Composer: Sri Tallapaka Annamacharya (Annamayya అన్నమయ్య), May 9, 1408 – February 23, 1503 was born to Narayana Suri and Lakkamamba in Tallapaka, a village in current day Kadapa district of Andhra Pradesh. More….
Keerthana No. 265 ; Volume No. 4
Copper Sheet No. 156
Pallavi: Neekela Yeegunamu (నీకేల యీగుణము)
Ragam: Mukhaari
Language: Telugu (తెలుగు)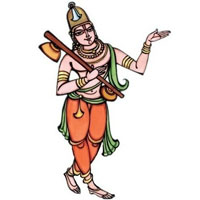 Recitals

Awaiting Contributions.

Awaiting Contributions.
This Kriti was originally composed in Telugu. Other languages are for your convenience.
Pallavi
|| nIkEla yIguNamu nI vEmi gaTTukoMTivi | yIkaDa lAliMcitE mEmiTu ninnu golutumu ||
Charanams
|| mATalaku lOgAnibrahmamanaMTA dAci dAci | mATADakuMDEvusummI mAtO nIvu |
nITuna manasulO niluparAnivADanaMTA | pATiMci mAku boDacUpakuMTE gatiyEdi ||
|| Srutulaku baTTarAnicOdyapubrahmanaMTA | matakAna jikkaka mAnEvusummI |
pativi nI gaMBIramu bayaTabaDI naMTA | atigOpyAna vinnadi yeTTerxigEmu ||
|| mAyapannukoninavummaDibrahmamanaMTA | yEyeDanainA BramayiMcEvusummI |
pAyapuTalamElmaMgapativi SrIvEMkaTESa | yIyeDa nISaraNaMTi minniTA mammElumI ||
.

We will update this page , once we find comprehensive meaning. Feel free to contribute if you know.
.