Composer: Muttukumaraswamy (முத்துகுமாரச்வாமி) popularly known as Muthuswamy Dikshithar (முத்துஸ்வாமி தீக்ஷிதர் – ముత్తుస్వామీ డిక్షితర్), (March 24, 1775 – October 21, 1835) was born in Tiruvarur (of Thanjavur district of Tamil Nadu) to a Tamil Iyer Brahmin couple Ramaswami Dikshitar and Subbamma, as the eldest son. He also had two younger brothers Baluswami, Chinnaswami and a sister Balambal.Chidambaranatha Yogi was his guru. More…

Raagam: Naree Reethi Gaula
Taalam: Misra caapu
Diety: Nilotpalamba vibhakti Krithis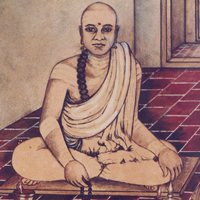 .
Recitals
Album: Unknown | Voice: Nityasri Mahadevan

Awaiting Contributions.

We believe this kriti was originally composed in sanskrit. Other languages are for your convenience.
పల్లవి
నీలోత్పలాంబాం భజరే రే చిత్త
వీథి విటంక త్యాగరాజాంతరంగాం శ్రీ
అనుపల్లవి
మూల కూట త్రయ కళేబర శోభారుణాం
ముచుకుందాది నుత పంకజ చరణాం
(మధ్యమ కాల సాహిత్యమ్)
మూల విద్యా దాన నిపుణాం
విధి పూజిత వినోద కిరణామ్
చరణము
కమలా నగర నివాసినీం
గురు గుహ మార్గ రీతి కౌళినీం
కమనీయ కామ కలా ప్రదర్శినీం
కాది హాద్యాది మను విశ్వాసినీమ్
(మధ్యమ కాల సాహిత్యమ్)
సామ గాన శిరఃకంపినీం
అఖిల మహా దురిత భంజనీం
కోమళ కుచ కచ భరాంగిణీం
ముకుంద సోదరీం పురాణీమ్
variations
కళేబర – కలేవర
.
பல்லவி
நீலோத்பலாம்பா3ம் ப4ஜரே ரே சித்த
வீதி2 விடங்க த்யாக3ராஜாந்தரங்கா3ம் ஸ்ரீ
அனுபல்லவி
மூல கூட த்ரய களேப3ர ஸோ1பா4ருணாம்
முசுகுந்தா3தி3 நுத பங்கஜ சரணாம்
(மத்4யம கால ஸாஹித்யம்)
மூல வித்3யா தா3ன நிபுணாம்
விதி4 பூஜித வினோத3 கிரணாம்
சரணம்
கமலா நக3ர நிவாஸினீம்
கு3ரு கு3ஹ மார்க3 ரீதி கௌளினீம்
கமனீய காம கலா ப்ரத3ர்ஸி1னீம்
காதி3 ஹாத்3யாதி3 மனு விஸ்1வாஸினீம்
(மத்4யம கால ஸாஹித்யம்)
ஸாம கா3ன ஸி1ர:கம்பினீம்
அகி2ல மஹா து3ரித ப4ஞ்ஜனீம்
கோமள குச கச ப4ராங்கி3ணீம்
முகுந்த3 ஸோத3ரீம் புராணீம்
variations
களேப3ர – கலேவர
.
ಪಲ್ಲವಿ
ನೀಲೋತ್ಪಲಾಂಬಾಂ ಭಜರೇ ರೇ ಚಿತ್ತ
ವೀಥಿ ವಿಟಂಕ ತ್ಯಾಗರಾಜಾಂತರಂಗಾಂ ಶ್ರೀ
ಅನುಪಲ್ಲವಿ
ಮೂಲ ಕೂಟ ತ್ರಯ ಕಳೇಬರ ಶೋಭಾರುಣಾಂ
ಮುಚುಕುಂದಾದಿ ನುತ ಪಂಕಜ ಚರಣಾಂ
(ಮಧ್ಯಮ ಕಾಲ ಸಾಹಿತ್ಯಮ್)
ಮೂಲ ವಿದ್ಯಾ ದಾನ ನಿಪುಣಾಂ
ವಿಧಿ ಪೂಜಿತ ವಿನೋದ ಕಿರಣಾಮ್
ಚರಣಮ್
ಕಮಲಾ ನಗರ ನಿವಾಸಿನೀಂ
ಗುರು ಗುಹ ಮಾರ್ಗ ರೀತಿ ಕೌಳಿನೀಂ
ಕಮನೀಯ ಕಾಮ ಕಲಾ ಪ್ರದರ್ಶಿನೀಂ
ಕಾದಿ ಹಾದ್ಯಾದಿ ಮನು ವಿಶ್ವಾಸಿನೀಮ್
(ಮಧ್ಯಮ ಕಾಲ ಸಾಹಿತ್ಯಮ್)
ಸಾಮ ಗಾನ ಶಿರಃಕಂಪಿನೀಂ
ಅಖಿಲ ಮಹಾ ದುರಿತ ಭಂಜನೀಂ
ಕೋಮಳ ಕುಚ ಕಚ ಭರಾಂಗಿಣೀಂ
ಮುಕುಂದ ಸೋದರೀಂ ಪುರಾಣೀಮ್
variations
ಕಳೇಬರ – ಕಲೇವರ
.
पल्लवि
नीलोत्पलाम्बां भजरे रे चित्त
वीथि विटङ्क त्यागराजान्तरङ्गां श्री
अनुपल्लवि
मूल कूट त्रय कळेबर शोभारुणां
मुचुकुन्दादि नुत पङ्कज चरणां
(मध्यम काल साहित्यम्)
मूल विद्या दान निपुणां
विधि पूजित विनोद किरणाम्
चरणम्
कमला नगर निवासिनीं
गुरु गुह मार्ग रीति कौळिनीं
कमनीय काम कला प्रदर्शिनीं
कादि हाद्यादि मनु विश्वासिनीम्
(मध्यम काल साहित्यम्)
साम गान शिरःकम्पिनीं
अखिल महा दुरित भञ्जनीं
कोमळ कुच कच भराङ्गिणीं
मुकुन्द सोदरीं पुराणीम्
variations
कळेबर – कलेवर
.
pallavi
nIlOtpalAmbAM bhajarE rE citta
vIthi viTanka tyAgarAjAntarangAM SrI
anupallavi
mUla kUTa traya kaLEbara SObhAruNAM
mucukundAdi nuta pankaja caraNAM
(madhyama kAla sAhityam)
mUla vidyA dAna nipuNAM
vidhi pUjita vinOda kiraNAm
caraNam
kamalA nagara nivAsinIM
guru guha mArga rIti kauLinIM
kamanIya kAma kalA pradarSinIM
kAdi hAdyAdi manu viSvAsinIm
(madhyama kAla sAhityam)
sAma gAna SiraHkampinIM
akhila mahA durita bhanjanIM
kOmaLa kuca kaca bharAngiNIM
mukunda sOdarIM purANIm
variations
kaLEbara – kalEvara
kshEtra – tiruvArUr
mUla kUTa traya kaLEbara – refer to lalitA sahasra nAMa (89)
.
പല്ലവി
നീലോത്പലാമ്ബാം ഭജരേ രേ ചിത്ത
വീഥി വിടങ്ക ത്യാഗരാജാന്തരങ്ഗാം ശ്രീ
അനുപല്ലവി
മൂല കൂട ത്രയ കളേബര ശോഭാരുണാം
മുചുകുന്ദാദി നുത പങ്കജ ചരണാം
(മധ്യമ കാല സാഹിത്യമ്)
മൂല വിദ്യാ ദാന നിപുണാം
വിധി പൂജിത വിനോദ കിരണാമ്
ചരണമ്
കമലാ നഗര നിവാസിനീം
ഗുരു ഗുഹ മാര്ഗ രീതി കൌളിനീം
കമനീയ കാമ കലാ പ്രദര്ശിനീം
കാദി ഹാദ്യാദി മനു വിശ്വാസിനീമ്
(മധ്യമ കാല സാഹിത്യമ്)
സാമ ഗാന ശിരഃകമ്പിനീം
അഖില മഹാ ദുരിത ഭഞ്ജനീം
കോമള കുച കച ഭരാങ്ഗിണീം
മുകുന്ദ സോദരീം പുരാണീമ്
variations
കളേബര – കലേവര
.
Pallavi
O mind, worship Nilotpalamba, the one who is intimate to veethivitanka, Tyagaraja
Anupallavi
The one who has the meaning of the three moolakootas as her causal forms & shining in her red-hue; the lotus-feet worshipped by Mucukunda &others; the one who is capable of bestowing the brahmajnana; the splendrous one worshipped by Brahma;
Charanam
The one who dwells in Tiruvarur or KamalAnagara. The Kaulini who guides on the path of guruguha; the one who displays the beautiful kamakala; one who likes the Kadi, Hadi mantra upasanas, the one who shakes her head in appreciation on hearing the charts of the sama veda, the one who removes the cruel sins; the one who has soft & heavy breasts & thick tresses; The sister of Mukunda; the primordial one.
*. The pancadashakshari mantra has 3 parts – vakbhava kuta (5), Kamarajakuta (6) & Shakti Kuta(4). The meaning of these are her causual forms as urdhvabindhu, twin bindhu, and bindu.
*. the twin concept of shivasakthi & their union is kamakala.
.