Composer: Sri Tallapaka Annamacharya (Annamayya అన్నమయ్య), May 9, 1408 – February 23, 1503 was born to Narayana Suri and Lakkamamba in Tallapaka, a village in current day Kadapa district of Andhra Pradesh. More….
Keerthana No. 458 ; Volume No. 2
Copper Sheet No. 190
Pallavi: Neemaaya Kallagaadu (నీమాయ కల్లగాదు)
Ragam: Bhavuli
Language: Telugu (తెలుగు)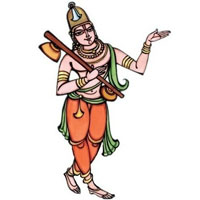 Recitals

Awaiting Contributions.

Awaiting Contributions.
This Kriti was originally composed in Telugu. Other languages are for your convenience.
Pallavi
|| nImAya kallagAdu nijamu deliyarAdu | kAmiMci hari nI vokkaDavE nijamu ||
Charanams
|| caccETi dokamAya sari buTTEdokamAya | maccumEpulasirulu mAyalO mAya |
vaccETi dokamAya vaccipoyyE dokamAya | kaccupeTTi hari nI vokkaDivE nijamu ||
|| podduvoDacEdi mAya podduguMkE dokamAya | niddurayu mElkanEdi niMDumAya |
voddanE suKamu mAya vogi duHKa mokamAya | gaddari SrIhari nI vokkaDavE nijamu ||
|| kUDETi dokamAya kUDi pAsE dokamAya | yEDa nErciti SrIvEMkaTESuDa nIvu |
vEDuka nISaraNaMTi viDipiMcu mImAya | vODaka vedakiti nI vokkaDavE nijamu ||
.

We will update this page , once we find comprehensive meaning. Feel free to contribute if you know.
.