Composer: Sri Tallapaka Annamacharya (Annamayya అన్నమయ్య), May 9, 1408 – February 23, 1503 was born to Narayana Suri and Lakkamamba in Tallapaka, a village in current day Kadapa district of Andhra Pradesh. More….
Keerthana No. 76 ; Volume No. 3
Copper Sheet No. 213
Pallavi: Neemahi Madi Yentha (నీమహి మది యెంత)
Ragam: Lalitha
Language: Telugu (తెలుగు)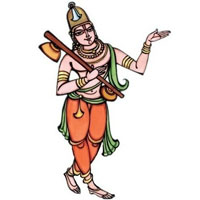 Recitals

Awaiting Contributions.

Awaiting Contributions.
This Kriti was originally composed in Telugu. Other languages are for your convenience.
Pallavi
|| nImahi madi yeMta nIvu cEsEcEta leMta | dImasapu nImAyalu teliyarAdayyA ||
Charanams
|| nIpAdatIrthamu netti mOce nokaDu | pUpakoDukai yokaDu boDDunabuTTe |
yEpuna niMtaTivAri kekkuDainadaivamavu | mOpucu dharmarAjuku mokkuTeTTayyA ||
|| nIlIla jagamellA niMDiyunna dokavaMka- | nOli nIlO lOkA lunna vokavaMka |
yElIlajUcinAnu yiMtaTidaivamavu | bAluDai rEpallelO bArADiti veTTayyA ||
|| SrIsatiki magaDavu BUsatiki magaDavu | yIsarusa SrIvEMkaTESuDavu |
rAsikekki nIviMtaTi rAjasapudaivamavu | dAsulamu mAkeTla dakkitivayyA ||


We will update this page , once we find comprehensive meaning. Feel free to contribute if you know.